The Wonder of Winter a Shimmering Success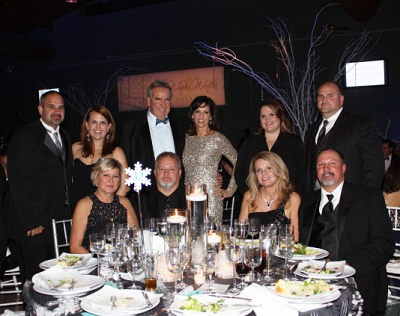 Posted by
MedStar St. Mary's Hospital
Pax III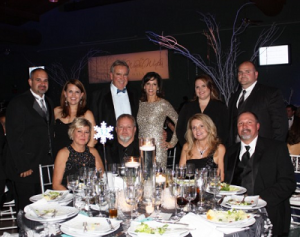 The 26th Annual St. Mary's Hospital Foundation Gala held in November at the Hollywood Social Hall raised more than $220,000 for healthcare scholarships, as well as for capital projects and equipment.
This year's theme, The Wonder of Winter, was immediately apparent when entering the social hall, which was like stepping into a serene winter scene, complete with a shimmering dusting of snowflakes and tree branches that glistened with delicate crystals.
"The overwhelming success of the Gala is the result of a tremendous amount of support from our community," said Helen Wernecke, 2013 Gala chairperson. "We appreciate the contributions made by numerous local businesses, individuals and our hospital community. Without their support, the Gala would not be the success that it is year after year."
Several of Southern Maryland's most prominent businesses, medical professionals and local organizations sponsored the evening's festivities, which featured delicious fare from Design Cuisine – the premiere caterer in Washington, DC, Virginia and Maryland. Music was provided by Nocturne.
Thanks and appreciation go to all of our sponsors for the event. The Foundation and MedStar St. Mary's are especially grateful to Dr. Mark Whitten for support as the 2013 Gala's Presenting Sponsor. Premiere sponsors were AMARYLLIS, inc. Floral + Event Design, Associates in Radiation Medicine and Shah Associates, M.D., LLC. Diamond Sponsors included AMEWAS; Cherry Cove Land Development; MedStar Health; MEP, Your Partner in Emergency Care; W.M. Davis, Inc.; and Christine R. Wray & John Felicitas.
Captivating the more than 600 guests was an enchanting scene set by graphic design students at the Dr. James A. Forrest Career and Technology Center under the direction of Casey Paige Pfeiff. Tree branches that reached great heights decorated the social hall along with delicately fallen crystals and sparkling mounds of snow created by AMARYLLIS, inc. Floral + Event Design.
Recognition and thanks also go to the following for their support: Jan & Tom Barnes; Family & Friends of Gala Committee Members; Compass Pointe Real Estate Development; Bubby Knott, Flat Iron Farm; MedStar St. Mary's Hospital Plant Operations; Patuxent River NAS Color Guard; and The Right Mix.
Attendees purchased chances that put them in the running for an exquisite seven-inch diamond tennis bracelet of 18k white gold. The four-carat total weight diamond resembling stunning clusters of snowflakes was graciously donated by Blair's Jewelry and Gifts. Congratulations go to Mindy and Stu Ashton, our lucky winners.
To date, the Foundation's scholarship program has made awards to more than 100 local students pursuing education in nursing and allied health, ensuring a qualified healthcare workforce today and for the future. Funds raised by the Foundation also provide support for capital expansion projects and equipment.
Visit MedStarStMarys.org to view photos taken at the event.