Ward Virts Series Features 6 Concerts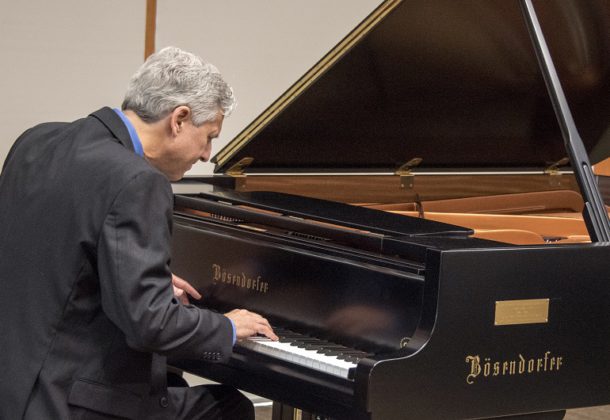 Classical pianist Brian Ganz will be the featured performer in the first concert of the 2017-18 College of Southern Maryland Ward Virts Concert Series on Oct. 8. The free concert series will be presented at CSM's Prince Frederick Campus.
Mr. Ganz is on the piano faculty at St. Mary's College of Maryland, where he is an artist-in-residence, and is a member of the piano faculty of the Peabody Conservatory. He is the artist-editor of the Schirmer Performance Edition of Chopin's Preludes (2005).
"Ganz is a wonderful example of the high caliber musicians that participate in the Ward Virts Concert Series," said CSM Chair of the Division of Communication, Arts, and Humanities Dr. Stephen Johnson.
Additional artists that will participate in this year's series include Megan Jolley on viola Nov. 12; Tanya Langlois, mezzo-soprano, performing Feb. 11; Michael Kannen on the cello March 11; pianist Holly Roadfeldt on April 8; and Anthony Zwerdling, baritone, performing May 13.
The Ward Virts Concert Series celebrates the life and talent of Ward Virts, a talented Southern Maryland pianist who died suddenly in 1993. A group of Mr. Ward's friends and classmates conceived the Ward Virts Piano Project to bring the love of life, beauty and music that Ward embodied to a new generation of Southern Maryland students, performers and appreciative audiences. The concerts are performed on a world-class handcrafted Bosendorfer Grand Piano, a gift to CSM's Prince Frederick Campus from the Ward Virts Piano Project.
"The music series continues the musical spirit of Ward Virts," Dr. Johnson said. "He was an active musician whose love of his art continues to serve as an example to CSM's students and Southern Maryland. The concerts of the Ward Virts Series provide a unique cultural offering to the region."
The Ward Virts Concert Series is presented by sponsors Dr. and Mrs. Henry Virts, Edward and Patricia Mehosky, Eric and René Franklin, Nancy Powell Hempstead in memory of Roger Powell, Stovy and Anne Brown, and the CSM Foundation. Grants provided by the Arts Council of Calvert County and Maryland State Arts Council also make the performances possible.
The series takes place in the Multipurpose Room 104 in Building B on the Prince Frederick Campus. All performances begin at 3 pm. Doors open at 2:30 pm. No tickets or reservations are needed.
For information on the Ward Virts Concert Series, visit the college's website.
For more about the College of Southern Maryland, visit its Leader member page.