Walter Reed Barracks: 'Years' of No Hot Water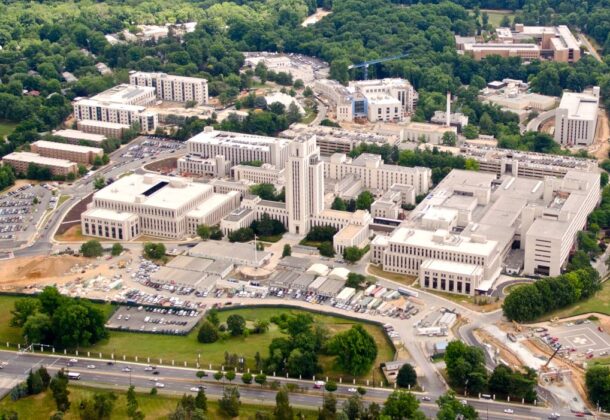 Morning Coffee is a robust blend of links to news around the internet concerning the Naval Air Station Patuxent River

economic community. The opinions expressed here do not reflect opinions of the Leader's owners or staff.
IRS backs away from facial recognition technology, reports FCW, after a letter from Senate Finance Committee chair Sen. Ron Wyden urged the tax agency to end a controversial contract with ID.me that requires taxpayers to submit biometric data to file tax returns online. In a February 7 press release, the IRS said it would transition away from the third-party service and "quickly develop and bring online an additional authentication process that does not involve facial recognition."
A Washington, DC, think tank says images show a North Korea base is likely intended for ICBMs, reports Reuters. The military base at Hoejung-ni, in North Korea's Chagang province, is about 16 miles from the border with China and 175 miles northeast of Pyongyang.
The US urges North Korea to focus on needs of its people and defund nuclear and ballistic missile production, reports Reuters. Russia and China blame sanctions for worsening the humanitarian situation in the hermit Asian state.
Leaked video shows the harrowing F-35 crash aboard carrier Carl Vinson, reports Navy Times. Naval Air Forces officials confirmed "that there has been an unauthorized release of video footage from flight deck cameras" aboard Vinson. A video leaked online shows the harrowing crash of a F-35C Lightning II jet aboard the aircraft carrier Carl Vinson last month, including the jet's rear erupting into flames as it hits the deck and slides the length of the carrier before dropping into the South China Sea at about 4:30 pm January 24.
Afghan resettlement exceeded $620 million at Joint Base McGuire-Dix-Lakehurst, reports Military Times on a new Defense Department report. The New Jersey base is one of two processing the final 7,000 Afghan evacuees. The base is one of eight domestic military bases responsible for resettling more than 75,000 Afghan evacuees in the US.
The Pentagon's new software modernization strategy is to make the tools developed a regular part of doing business, reports C4ISRNET. The modernization strategy, released late last week, says 29 existing software factories across DoD and made significant progress. Now DoD needs to use the innovation.
The Navy has fired the entire command triad of the Navy's Amphibious Construction Battalion 2, reports Navy Times. Navy officials said the reliefs of commanding officer CAPT Jeffrey Lengkeek, executive officer CMDR Michael Jarosz, and Command Master Chief Matthew Turner were "due to a loss of confidence in their abilities to effectively perform their leadership roles." LT CMDR Paul Newell, a spokesman for Expeditionary Strike Group 2, told Navy Times on Monday that the firings happened "following a formal command investigation."
Contracts:
The Boeing Co., Huntington Beach, California, is awarded a $94,902,277 cost-plus-fixed-fee, indefinite-delivery/indefinite-quantity contract. This contract provides engineering services and supplies, to include capability defect package fixes and acoustic software improvement efforts in support of the continued development and sustainment of the P-8A Acoustic Operational Flight Program. Work will be performed in Huntington Beach, California (80%); Seattle, Washington (10%); California, Maryland (8%); and St. Louis, Missouri (2%), and is expected to be completed in January 2027. No funds will be obligated at the time of award; funds will be obligated on individual orders as they are issued. This contract was not competitively procured pursuant to 10 US Code 2304(c)(l). The Naval Air System Command, Patuxent River, Maryland, is the contracting activity (N0001922D0007).
ECS Federal LLC, Fairfax, Virginia, was awarded a $50,541,557 modification (P00011) to contract W911QX-20-C-0019 to explore the development of algorithms through the incorporation of machine learning and artificial intelligence research. Work will be performed in Fairfax, Virginia, with an estimated completion date of Feb. 7, 2024. Fiscal 2022 research, development, test and evaluation, Army funds in the amount of $8,000,000 were obligated at the time of the award. US Army Contracting Command, Aberdeen Proving Ground, Maryland, is the contracting activity.
Science Applications International Corp., Reston, Virginia, was awarded a $49,700,000 hybrid (cost-no-fee and firm-fixed-price) contract for support services for life cycle management of programs within multiple ammunition product lines. Bids were solicited via the internet with four received. Work locations and funding will be determined with each order, with an estimated completion date of May 4, 2027. US Army Contracting Command, Newark, New Jersey, is the contracting activity (W15QKN-22-D-0009).