Unique Gifts at Ornament Show and Sale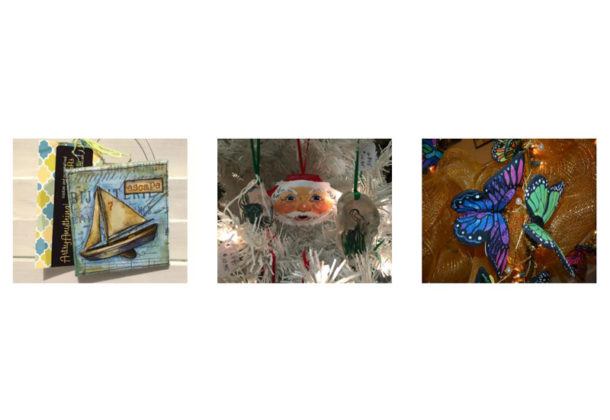 For the 10th year in a row, Annmarie Sculpture Garden and Art Center will offer the most unique gift-buying opportunity in the region: the annual Ornament Show and Sale. The event is set for Nov. 17, 2017, through Jan. 1, 2018, in the main gallery of Annmarie Garden. It will be open most days between those dates, and then open later during evenings when Garden In Lights is open to the public.
During the days, admission to the show and sale is free. Folks who come in the evenings will first have to pay Garden in Lights admission fees.
The Ornament Show and Sale is presented by the Annmarie Gift Shop. This juried show features hand-crafted ornaments by 20 regional artists who spend the year preparing many ornaments to offer a unique gift-buying opportunity to everyone. The sale is the perfect place to find unique and affordable gifts for family and friends. The ornaments hang on beautiful, original trees and displays in the main gallery of the arts building. Visitors get to shop straight off the trees and take their purchases to the gift shop. The show starts before Thanksgiving and runs through to the first day of January.
To the Artists
Artists and craftspeople are invited to participate in the annual Ornament Show and Sale. Artists using any medium are invited to apply, whether they specialize in fine arts, folk art, toys, craft media, etc. Individuals as well as groups can apply to share a tree and sell their original creations. All sales are done through the gift shop, so artists do not need to be on site every day. Applications are reviewed on a first come, first served basis. Artists will be notified of acceptance into the show within a week of their application submission. Modest booth fees apply.
To learn more about Annmarie Garden, visit its Leader member page.