UAS Launches from Sub, Budgets Keep Shrinking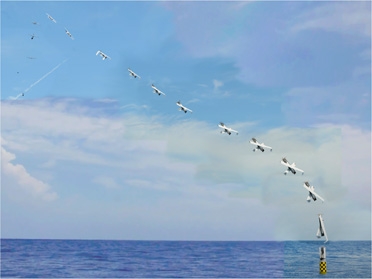 Morning Coffee is a robust blend of links to news around the internet concerning the Naval Air Station Patuxent River economic community. The opinions expressed here do not necessarily reflect those of the Leader's owners or staff.

The US Naval Research Laboratory announced their successful  launch of an unmanned experimental aerial system from a submerged submarine last week. The  XFC UAS was fired from the submarine's torpedo tube.
Pentagon staffing cuts and reorganization plans to reduce the DoD budget will expand the Homeland Defense adding agencies dealing with cyber-security, space, and weapons of mass destruction to its scope, reports Breaking Defense. Additionally, 200 jobs are to be shed in the Office of the Secretary of Defense and a reduction in the number of contractors by 2019 as well. Defense Talk provides more itemized cuts specified by SecDef Chuck Hagel and JCS Chair Gen. Martin Dempsey. FedBiz reports that SecDef Hagel expects most of the personnel cuts to fall on contractors.
The Pentagon notified Congress last week of six international arms sales approaching $2 billion, reports DoD Buzz. More than half the total comes from two proposed sales to Saudi Arabia for thousands of anti-tank missiles in contracts for $900 million and another for $170 million.
DoD continues to address strong interest in the JSF from Gulf nations which are not able to receive fighter jets until 2020 under the current US-Israel policy. The policy wouldn't allow a fighter-jet sale in the region until nearly five years after Israel receives its first F-35s in 2016, reports Arabian Business. The State Department and Pentagon are among the government agencies that consult on decisions to sell sensitive technologies  to foreign countries.
Israeli Prime Minister Benjamin Netanyahu is willing to support diplomacy in efforts to prevent Iran from gaining nuclear weapon capability but only with "powerful sanctions and a credible military threat," The Hill reported on his comments at the Brookings Institution's Saban Forum.
To reduce reliance on expensive manned platforms such as the JSF, Israel's Air Force is looking into using unmanned aircraft to intercept manned enemy warplanes, reports the World Tribune.
Testing is done for the MQ-8B Fire Scout UAV on the Littoral Control Ships, including the testing of the UAV Common Automated Recovery System, reports Strategy Page. The Navy will next begin testing and evaluation of eight, larger MQ-8C purchases, which use much of the MQ-8B technology. If successful another 20 will be put into service possibly as soon as 2014.
The US Marine Corps extended into next year Lockheed Martin's contract to operate two K-Max unmanned helicopters for cargo lifting in Afghanistan, reports Aviation News.
Lockheed assures South Korea, if it buys, its F-35s will remain in-country for repairs. The company's pledge made at a DC press conference also noted technology transfers included under the anticipated 40-jet sales deal. The U.S. aircraft maker made the pledges at a press conference in Washington, reports The Chosun Ilbo.
The Naval Satellite Operations Center  will soon be relocating MUOS 2 into its operational slot, reports Satellite Today. The new Mobile User Objective System satellite from Lockheed Martin was handed over to the U.S. Navy last week. Following testing and evaluation, government commissioning is anticipated in 2014. The satellite relays voice and high-speed data signals for mobile users worldwide.
It's only a "mini-deal," according to the Washington Post, but the possible 2014 budget resolution would keep the government open beyond Jan. 15, 2014. The op-ed article sees no advancement in the long-term budget needs, but this short-term resolution would restore much of the  $20 billion defense spending reduction. Defense News says this accord, being hammered out by House Budget Committee Chairman Rep. Paul Ryan, R-Wis., and Senate Budget Committee Chairwoman Sen. Patty Murray, D-Wash., might be struck, but  passage is far from assured.