TPS Helos Get Spiffy New Instruments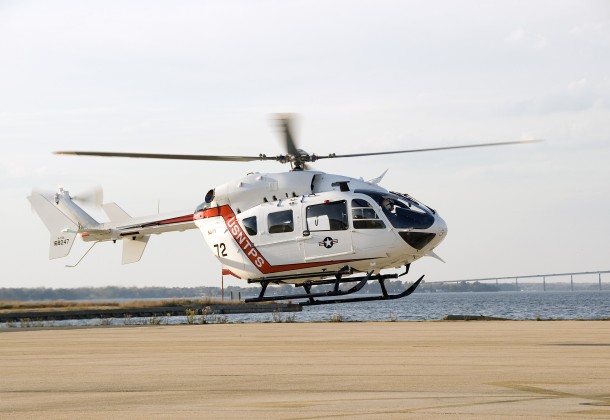 Photo courtesy of NAVAIR
By AIR 1.0 Public Affairs
The first of five H-72 Lakotas at the U.S. Naval Test Pilot School (USNTPS) has been outfitted with a state-of-the-art instrumentation package to enhance students' learning.
"The instrumentation package will make it possible for students to take data from a single source in the H-72 versus individual systems as students must do in other helicopters. They can then analyze it and write up reports on their findingsa crucial component of their training," said Brent Johnson, USNTPS integrated product team lead, Naval Aviation Training Systems, PMA-205 here.
"The UH-72 project is a great example of how NAVAIR's acquisition and test communities come together to ensure the fleet user, in this case U.S. Naval Test Pilot School, has the proper tools to accomplish their mission safely, effectively and efficiently," said Dan Shannon, PMA-205 Strike Training program manager.
The Lakota also has USNTPS' first hingeless rotor system with composite main rotor blades and is the school's first helicopter with a glass cockpit whose displays incorporate push buttons instead of knobs and dials, and has an Automatic Flight Control System with navigation modes, or "augmented flight controls," which are new to the school.
Engineers and artisans from NAVAIR's Air Vehicle Modification and Instrumentation directorate designed, fabricated and installed the instrumentation package comprising a removable pallet, two glass-cockpit displays, and a test boom with airspeed, angle of attack and sideslip sensors. The package includes a digital recorder that time-stamps data so students can see how the Lakota moves three dimensionally.
The instrumentation also produces data on memory cards, so students can do more analysis at their desks.
The instrumented Lakota should be ready to fly later this spring, according to Johnson and Craig Nixon, flight curriculum manager, USNTPS.
The other four Lakotas, which replaced the Vietnam-era TH-6B Cayuse, are slated to be instrumented at the rate of one per month. USNTPS took possession of its first Lakota in 2009, and recently logged its 1,000th flight hour in the helicopters.
Between the modern features of the H-72 and the new instrumentation package, "we received new technology," said Nixon. "It's much more in line with the way modern aircraft are instrumented."
To practice testing a helicopter, students gather six flight hours of data collected by the instrumentation, reduce it into usable engineering data to evaluate the aircraft's performance, and then present it in a carefully crafted report, Nixon said.
The twin-engine, two-pilot H-72 is a utility helicopter used for medical evacuation, transport, personnel recovery and general support. It can carry as many as eight troops or two stretchers and medical crew.
The 66-year-old school is the only U.S. military test pilot school equipped with helicopters, so aviators from not only the Navy, but also Marine Corps, Army, Air Force and Coast Guard come to the USNTPS to train to become helicopter test pilots.