TPP to Host STEM Festival & Expo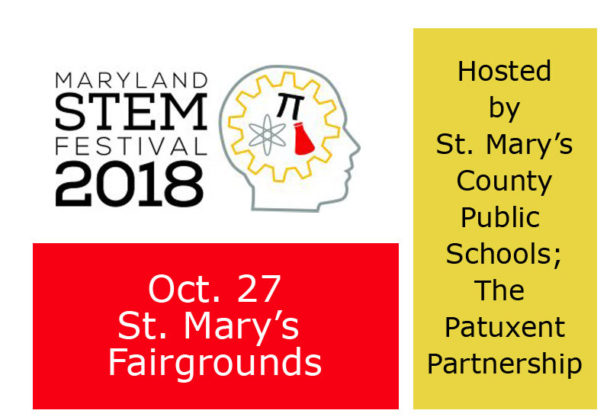 St. Mary's County Public Schools and The Patuxent Partnership are working together to present the fourth annual Maryland STEM Festival and Expo on Oct. 27, 2018, from 10 am to 2 pm at the St. Mary's County Fairgrounds in Leonardtown, Md.
The STEM Festival and Expo will have activities for children of all ages related to science, technology, engineering, and mathematics. There will be loads of exciting and fun games and prizes. More than 30 exhibitors have been invited to the event.
STEM, or Science, Technology, Engineering and Math, career fields are growing at a rapid pace. Employers all over the country are looking for employees with the technical skills to take on these demanding, but rewarding, jobs. The local event is part of the larger Maryland STEM Festival, which includes events in all 23 Maryland counties and Baltimore city. The purpose is to encourage students to be interested in science, technology, engineering and math subjects, in the hopes that they will some day pursue a career based in these STEM fields. According to the Maryland STEM Festival site, this year's spotlight will be on military careers and how they use STEM. Some of these careers are filled by active duty armed forces members while others are performed by civilian government agencies and private corporations.
All of the event's participants will be able to learn more about STEM activities and careers through games and fun activities.
For more information about the STEM Festival and Expo, contact Denise Mandis by email at [email protected] or Jason Hayes by email at [email protected].
The fairgrounds are at 42455 Fairgrounds Road in Leonardtown. 
About The Patuxent Partnership
TPP fosters collaboration and the sharing of knowledge and expertise across a diverse network that includes government, industry, and academia. TPP also supports STEM education and workforce development within the local community including hosting programs of interest to NAVAIR, NAWCAD, and the broader DoD community.
To learn more about The Patuxent Partnership and its programs, visit its Leader member page.