Survey: US Needs a 400-Ship Navy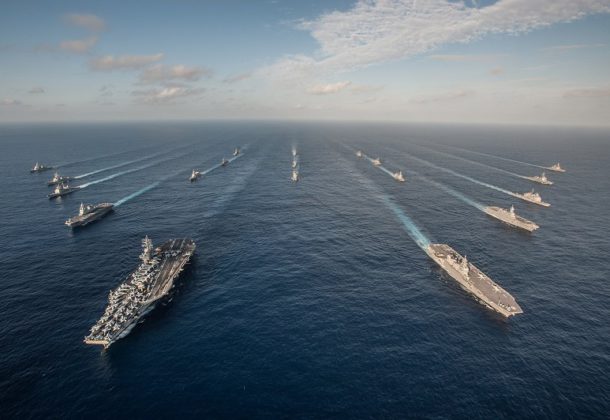 Morning Coffee is a robust blend of links to news around the internet concerning the Naval Air Station Patuxent River 

economic community. The opinions expressed here do not reflect opinions of the Leader's owners or staff.
Forget a 355-ship fleet. A new study finds the US is woefully short of ships and even the current target goal is short of what the country needs, reports Defense News. The study calls for a force of 400 ships. According to The Heritage Foundation, America's shipbuilding industrial base has the capacity to build at least an additional 22 warships, 20 frigates, and 24 combat logistics force ships between FY 2020 and FY 2039.
A new report is calling for a national cybersecurity civilian corps because organizations in every industry struggle to protect data, systems, and networks. The authors suggest that an auxiliary corps — the equivalent of volunteer firefighters or Civil Air Patrol — could allow officials to tap into a pool of talent on an as-needed basis to help fight malicious actors, reports Defense Systems. Read the report from New America.
The Marine Corps' newest innovation challenge calls on Marines, sailors, and DoD civilians to take their best crack at proposing a solution "that addresses a maneuver, logistic, or force protection challenge specific to Marines operating as part of a forward naval force," reports Military.com.
The Pentagon has learned that the national security top line for fiscal 2020 will be $700 billion, reports Defense News, representing the first cut to defense spending under the Trump administration.
The debate on national security issues has been more muted this year than in the 2016 election, when military and defense topics were center stage in the presidential campaign, reports Military Times.
Deputy DefSec Patrick Shanahan says the US has reversed its plan to ban cluster munitions, reports Military.com. It is keeping its stockpiles for one reason: North Korea.
The Air Force has a plan to improve the mission-capable rates of F-22, F-35, and F-16 squadrons, reports Defense News, which currently is below the 80 percent readiness level ordered by DefSec Jim Mattis.
FEMA and other US agencies and military from Hawaii and Gaum were toiling in the Commonwealth of the Northern Mariana Islands to help restore power and water; untangle the ground, sea, and air transportation grid; and transport large quantities of food and water following Super Typhoon Yutu that struck the area, reports Navy Times.
An unclassified US Army history of the U.S. involvement in the Iraq War, which cost more than 4,400 American lives between 2003 and 2011, was unheard of until last week when The Wall Street Journal published an account of the secret history. Stars and Stripes reports some lawmaker are calling for the release of the entire report.
Military Times reports that consuming energy drinks may be contributing to long-term mental and physical ailments of deployed service members, according to a recent study in the Military Medicine journal.
Launched in 2015 in Hampton, VA, an Adopt an Airman program is a collaboration among the city, Langley Air Force Base, and the Langley Civic Leaders Association. The program is designed to provide a surrogate home for airmen during their first enlistment, reports The Virginian-Pilot. The initiative has connected dozens of young airmen with families who offer "home cooking, a comfy couch, a safe night on the town, and plenty of conversation."
Contracts:
Atlantic Diving Supply Inc., doing business as ADS, Virginia Beach, Virginia (SPE8EH-19-D-0001); W.S. Darley & Co., Itasca, Illinois (SPE8EH-19-D-0002); Unifire Inc., Spokane, Washington (SPE8EH-19-D-0003); Mallory Safety and Supply, Longview, Washington (SPE8EH-19-D-0004); Federal Resources Supply Co., Stevensville, Maryland (SPE8EH-19-D-0005); and L.N. Curtis & Sons, Oakland, California (SPE8EH-19-D-0006), are sharing a maximum $78,000,000 bridge contract under solicitation SPM8EH-12-R-0009 for fire and emergency services equipment. These are firm-fixed-price, indefinite-delivery/indefinite-quantity, 120-day bridge contracts. These were sole-source acquisitions using justification 10 US Code 2304 (c)(1), as stated in Federal Acquisition Regulation 6.302-1. Locations of performance are California, Illinois, Maryland, Virginia, and Washington, with a Feb. 27, 2019, performance completion date. Using military services are Army, Navy, Air Force, Marine Corps and Coast Guard. Type of appropriation is fiscal year 2019 defense working capital funds. The contracting activity is the Defense Logistics Agency Troop Support, Philadelphia, Pennsylvania.