Survey Says, Dream Big for Youth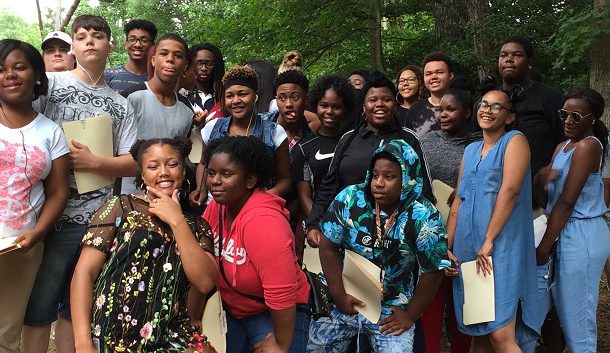 Newly Released Report Prompts Action for Community Center
Representatives of the Campaign for a Community/Youth Center in Lexington Park say the time is now to begin discussions to build a community center.
Their basis for that call to action is "Dreaming Big for Youth: An Expert Working Group Analysis of Data Collected by Community Youth Mappers."
The group's Steering Committee released the report that analyzes data collected by 31 local high school students who administered two surveys last summer: a place-based survey of businesses and offices to identify resources and opportunities, and a people-focused survey to gain community perspectives of youth and family needs. But because data needs analysis to be useful, the Steering Committee assembled an expert working group of individuals representing St. Mary's County Public Schools, the local library, St. Mary's County Department of Recreation and Parks, the private sector, service organizations, faith community, and several of the student researchers.
The report is available to any groups or individuals who are ready to debate the needs of youth and families, and to work together to establish St. Mary's County's first community/youth center.
While local residents of all ages and backgrounds seem to agree that there never has been enough for young people to do in the county, their personal and family stories have not been enough to counter naysayers who point to the Loffler Center at Chancellors Park as evidence that "it won't work."
Now, however, "Dreaming Big for Youth" provides information and analysis for advocates to engage in positive, productive discussions with skeptics — and to move the process forward. The report analyzes what the community currently offers in regards to arts and music, employment and job readiness, learning and growing, sports and fitness, support services, transportation, and places to go or to hang out — and then reveals what is lacking. It also identifies four obstacles to accessing youth and family-related resources: cost, transportation, availability, and information.
The report addresses the space issue: that the community lacks indoor spaces — both for times of year when outdoors is not an option, and for activities such as arts and academics and projects that require indoor spaces.
To join the discussion, members of the community are encouraged to email smcyouthcenter@gmail.com to request a copy.
The Steering Committee thanked key supporters of the initiative, including the superintendent of St. Mary's County's public schools, St. Mary's County Library, the NAACP, and Walden. For funding, the Steering Committee leveraged a grant from the St. Mary's County commissioners, matching it with funding from local organizations like the Rotary Club and Unified Committee for Afro-American Contributions; businesses Dyson's, Heron Systems, Medstar St. Mary's Hospital, Patuxent Dental, Sabre Systems, and Southern Maryland Electric Cooperative; local churches; several anonymous donors; and many generous individuals, both locally and through a GoFundMe site.