Students Awarded Bay Business Group Scholarship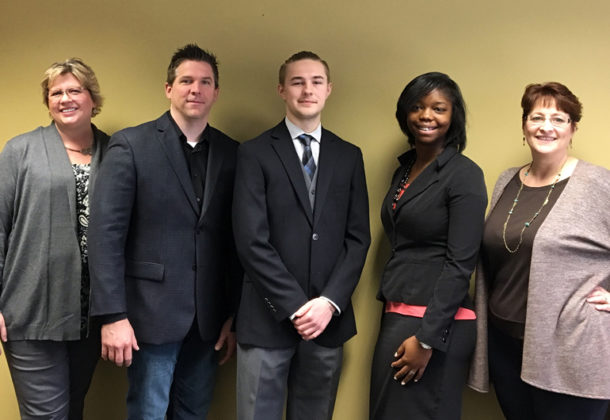 From left, Bay Business Group Vice President Diane Burr and member Brian McDaniel stand with CSM students Josh Griffith and Cayla Chase, next to Bay Business Group Secretary Karen Kroll after Griffith and Chase are announced as the first recipients of the newly established Bay Business Group Annual Scholarship.
Group, CSM Foundation Work Together to Create Award
Two College of Southern Maryland students — Josh Griffith of Owings and Cayla Chase of Lusby — are the first recipients of a new scholarship established by Bay Business Group and the CSM Foundation. Griffith and Chase are business administration majors at CSM.
Mr. Griffith and Ms. Chase spoke at a recent meeting of the Bay Business Group, sharing their business ideas. "Both Josh and Cayla were a delight to meet and listen to their entrepreneurial plans," said BBG Secretary Karen Croll. "We intend to offer each of them a free, one-year membership to the Bay Business Group in support of their marketing and networking efforts for their businesses."
"The BBG's focus is to create great business leaders and owners through education, experiences and opportunities," said BBG President Cindy Bliss. "The scholarship fund was established to financially support students pursuing a business degree and to raise awareness of what the BBG can do for others. We believe that by helping others succeed in business, families, schools and communities are also positively impacted." The Bay Business Group includes more than 100 advocates for economic growth and prosperity.
The Bay Business Group Annual Scholarship will provide an annual $1,000 scholarship to two residents of Calvert County who attend the College of Southern Maryland. Among other requirements, recipients must have graduated from one of the four public high schools in Calvert County, be current Calvert County residents, be full-time students majoring in business administration at CSM, maintain a 2.5 cumulative grade point average or better and demonstrate financial need.
For information on donating to a CSM scholarship or creating your own scholarship at CSM, visit the CSM Foundation's website.
For more about the College of Southern Maryland, visit its Leader member page.