Burch Family Honored for Multi-Generational Community Service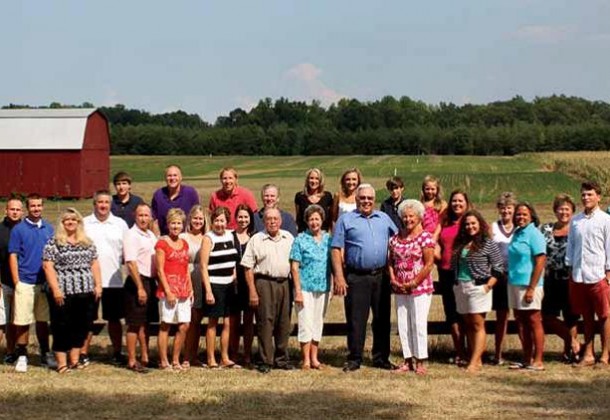 Posted for
Burch Oil
and
MedStar St. Mary's Hospital
Pax II,  Pax III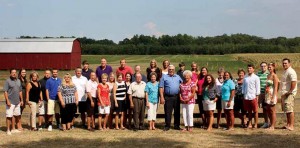 Every issue of Medstar St. Mary's Hospital's "Healthy Living" throughout 2012 has featured St. Mary's County individuals or families whose story has a connecting thread that links St. Mary's County  and our hospital histories together. In the Fall 2012 issue Burch family is spotlighted. Their story is reprinted here.
F. Elliott (Sonny) Burch, Jr. and his brother Donald (Buddy) talked about how four generations of their family took an active role in the community since the start of the family business in 1928.
"My father taught Buddy and me about giving back to the community just as his father taught him," said Sonny, who has passed along this same lesson to his children and on down the line.
One way that F. Elliott Burch, Sr., son of one of the original founders of Burch Oil, served his neighbors was through community service. After graduating from the Charlotte Hall Military Academy (CHMA), he joined the family business. He served on numerous boards such as the CHMA, St. Mary's Hospital and Cedar Lane Apartments for the Elderly to name a few. He was elected to serve as a St. Mary's County Commissioner from 1962 to 1970,
Following in his father's footsteps, Sonny served on the St. Mary's Hospital Board of Directors from 2002 to 2007.
"I remember when we added the third floor to the hospital," he said. "We knew the county was growing and that the hospital would need to grow with it."
He also said it was an honor to serve with "people who were and are dedicated to this hospital and this community. But it's always been like that in the county."
During Sonny's last year on the board he served as its president.
"People here want to help each other," said Buddy. "We all grew up together. Our families knew each other."
As an example, he told the story about how the Burch brothers used to play ball with Dr. John Roache, who is on the hospital's Medical Staff. "He was the catcher," said Buddy, "and for some reason everyone on the team used to call him 'Yogi' after the great New York Yankee, Yogi Beara."
In addition, Sonny talked about Dr. Roy Guyther who used to be his family physician. He spoke about how Dr. Guyther was named Family Physician of the Year. The Maryland State Medical Journal ran a cover photo of Dr. Guyther and three children in an exam room in August 1982.
"Those were my kids," said Sonny. "We just happened to be in Dr. Guyther's office when the photographer showed up."
Sonny's daughter, Sheri Burch Norris, chose to continue her father's legacy by serving on the Hospital Foundation board.
"Things have changed so much since I was on the Foundation," she said. "I served during the earliest years of the Foundation's Gala and we didn't even hold the event in the county then."
She added that in subsequent years the event was held at the Harry Lundberg School of Seamanship in Piney Point, Md.
"We used to 'beg, borrow and steal' decorations for the event at the time and it was difficult to raise significant dollars. It wasn't anywhere near what the event is now," Sheri said, adding that she is glad she had a small part in laying the groundwork.
Her father mirrors that sentiment. Seeing the hospital's new Outpatient Pavilion open its doors was gratifying for Sonny.
"We were talking about it, planning for it and laying the groundwork for it when I was on the board," he said. "We were always looking ahead and tried to think about future needs." The board understood how being able to accommodate more outpatient services for the  community was the right direction.
Having a total of nine children born at the hospital between 1955 and 1979 also kept the brothers' families in close contact with the hospital and many of its staff. In addition, 12 grandchildren were born here.
"We've always been well cared for at the hospital over all the years," said Buddy.
Even Sheri's daughter Lauren spent two summers at the hospital as an intern and also volunteered as a candy striper. "She learned a lot of very important life lessons while working at St. Mary's," said Sheri. "It was a wonderful experience," said Lauren. "I loved it. Everyone really wanted to help us [the interns]."
There is no denying that giving back to the community in numerous ways is a way of life for the multi-generational Burch family. In addition to their time and talent, Burch family members gave a generous donation to the hospital during a capital campaign and dedicated a room to Sonny and Buddy's parents, F. Elliott and Elizabeth Burch, Sr. The family views it simply as another way to help provide for the hospital's continued growth.
And, the Burch family was successful in obtaining a three-year grant donation for Hospice of St. Mary's. Sheri said the family nominated Hospice under the "Fueling Communities" program that British Petroleum (BP) offers its BP dealers. The program was initiated by British Petroleum following the Deepwater Horizon accident in the Gulf.
The strong sense of community within the Burch family seems to keep growing, just like the county itself.