Russians Keep $490M US Space Shuttle Contract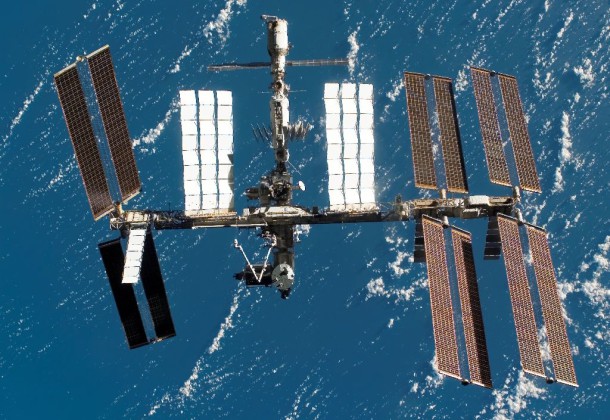 ISS as seen in 2008 from the departing space shuttle.
Morning Coffee is a robust blend of links to news around the internet concerning the Naval Air Station Patuxent River economic community. The opinions expressed here do not necessarily reflect those of the Leader's owners or staff.

NASA extends $490 million contract with Russia to transport US astronauts to the  International Space Station. Military.com reports, lack of US funding ended NASA's Space Shuttle program in 2011. Since then US crew members have relied upon the Russian Soyuz spacecraft.
US officials believe Russia hacked into the Pentagon, no classified information revealed, reports UPI.
US Government funding expires on Sept. 30. The Hill reports, Senate Majority Leader Mitch McConnell wants to keep government open, avoid default and remain friends with the GOP's conservative base, none of which will be easy.
More reports of Chinese vessels ramming Vietnamese fishing boats in the South China Sea prompt Secretary of State John Kerry to criticize Chinese expansion efforts and note the importance of keeping shipping lanes open, reports USNI.
As the Navy institutes new fitness standards and policies, the Marines decry any slackening of fitness standards. The Marines new fitness policies are due out the end of this month, reports Marine Times.
Military.com posts F-22 Raptor videos, calling the stealth fighter "a force to recon with."
The Washington Post reports the difficulties facing traditional military supplier, Beretta, a Maryland company leaving the state as a result of new gun laws and now facing new competition from the commercial sector for its military sales. The latter because commercial handguns can now meet battlefield specifications.
ABC reports, a 3,000-foot runway for unmanned aircraft systems will be built at the Mid-Atlantic Regional Spaceport, on Virginia's Eastern Shore, one of four facilities approved to launch rockets into orbit.
Vice Adm. Joseph Aucoin, deputy chief of Naval Operations for Warfare Systems calls the F-35 Joint Strike Fighter and unmanned systems  "absolutely essential," to the future of the air wing, reports Defense Systems.
Maryland shoppers have until Aug. 15, 2015 to save the 6 percent sales tax on clothing and footwear, reports SoMdNewsNet.
Computer Sciences Corp
., Falls Church, Virginia (N00189-15-D-Z034); and Serco Inc., Reston, Virginia (N00189-15-D-Z035), are being awarded a multiple award cost-plus-fixed-fee, indefinite-delivery/indefinite-quantity task order contract to provide support to Naval Supply Systems Command Business Systems Center for program management and technical support services for the Ordnance Information System. Computer Sciences Corp. is being awarded $39,911,571, and Sercom Inc. is being awarded $45,981,714. Work will be performed in
Indian Head, Maryland (15 percent)
; Mechanicsburg, Pennsylvania (20 percent); Norfolk, Virginia (20 percent); Yorktown, Virginia (20 percent); Reston, Virginia (12.5 percent); and Virginia Beach, Virginia (12.5 percent), and will be completed by August 2020. Funding in the amount of $10,000 will be obligated at the time of award. Fiscal 2015 operation and maintenance (Navy ) funds will be obligated at the time of award and funds will expire before the end of the current fiscal year. This contract was competitively procured through the Federal Business Opportunities website, with two offers received. Naval Supply Systems Command Fleet Logistics Center Norfolk Contracting Department, Philadelphia, Pennsylvania, is the contracting activity.