Robotics Team Wins Startup MD Prize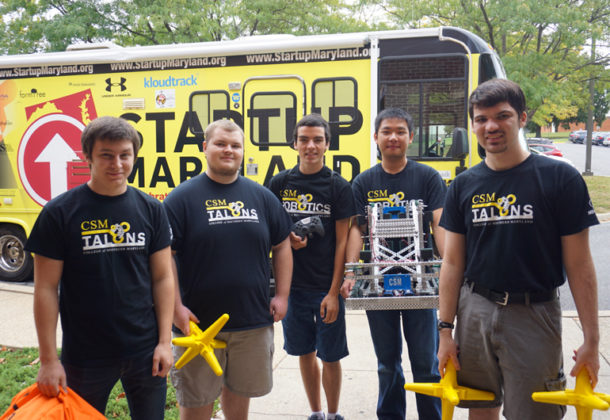 The College of Southern Maryland robotics team attended the Startup Maryland Pitch Across Maryland event in Indian Head and were awarded a $500 prize. From left are Joseph May of La Plata; George Jenkins of Port Tobacco, president of the CSM Robotics Club; Edward Gesser of Mechanicsville; WenXing Lin of St. Leonard; and John Hamel of Mechanicsville.
The College of Southern Maryland Talons robotics team took a trip to Indian Head to demonstrate their robot at the Startup Maryland STRT1UP road show and walked away with a $500 prize.
Southern Maryland entrepreneurs went to the event to pitch ideas for new businesses and innovations on the Pitch Across Maryland bus, which had been touring different regions of the state. The local stop on the three-week bus tour was Sept. 16 at the Indian Head Village Green Pavilion.
Bringing the bus to Charles County happened through the efforts of several groups, said Thomas Luginbill, the director of the newly formed CSM Entrepreneur and Innovation Institute.
Sponsors included the College of Southern Maryland, Small Business Development Center, TechFire, Energetics Technology Center, Charles County government, the Town of Indian Head, Charles County Chamber of Commerce, NAVSEA and Southern Maryland Innovation & Technology.
Luginbill said Indian Head was an ideal spot for a tour stop. The event offered an opportunity for some good exposure for students in the college's robotics program, so he recommended representatives of the Talons team attend.
"The Naval Surface Warfare Center at Indian Head specializes in explosive ordnance disposal (EOD) robotics technology. Bringing the robotics students to Indian Head was a perfect way to highlight our young innovators and show the community some of our future EOD research scientists," Luginbill said.
Brandon Paulin, the 20-year-old mayor of Indian Head, attended Henry E. Lackey High School with CSM Robotics Club President George Jenkins of Port Tobacco.
"The Talons robotics team is a class act and an extremely well-run organization. This team shows how faculty and students can come together in a fun and collaborative learning environment," Luginbill said. "We wanted the community to see that education can still be fun."
An Unexpected Pitch
The team had only planned to demonstrate the robot.
"The team has conducted demos before, but they've never made a pitch," said Bernice Brezina, interim chair of CSM's Business and Technology Division. She also has been the lead faculty adviser since the robotics team started at CSM in 2010. Ronda Jacobs and William Luyster, CSM faculty members, have since taken over management of the robotics club and the Talons team.
Brezina said the students were unexpectedly called in to make a pitch at the Startup Maryland event. "They looked at us, and we looked at them, and then we said, 'Go ahead.'"
At first, she said, the robotics students were not sure what to do.
"You always talk about wanting to compete with other community college teams in the state, and there aren't any. You always say you'd like to help other colleges get started," Brezina recalled telling the students. "Talk about that."
So team members pitched their idea to advise other community colleges on how to start their own robotics teams.
CSM hosts qualifiers for the VEX U World Championship at its La Plata Campus, and the CSM team finds itself competing with major universities, which in the past have included such schools as George Mason University; University of Maryland, Baltimore County; Purdue University; and Old Dominion University. Qualifiers this winter will be Jan. 6 and Feb. 3.
For information on robotics and STEM events at CSM, visit the CSM website. For more on the Talons, visit their website.
For more about the College of Southern Maryland, visit their Leader member page.