Pax Partnership Names Member of the Year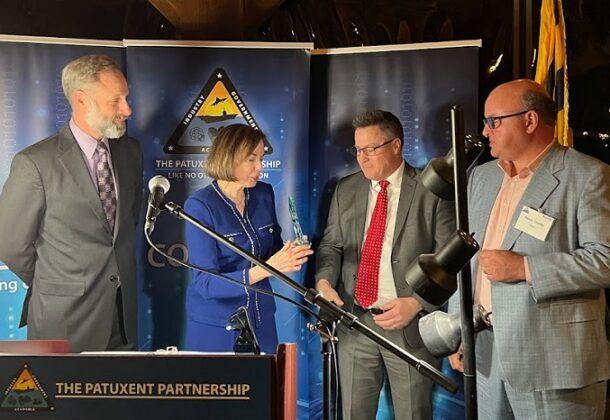 (The Patuxent Partnership Facebook photo)
The Patuxent Partnership named Resource Management Concepts Inc. as its TPP 2022 Member of the Year.
Bonnie Green, second from the left, made the award presentation at TPP's annual dinner held April 26 at the Historic St. Mary's City pavilion. RMC President Rich Gast and CEO Kevin Cooley accepted the award.
The TPP Member of the Year Award recognizes a corporate member that best exemplifies outstanding leadership, community support, and commitment to the economic growth and development of Southern Maryland.
To be considered for the award, members must demonstrate strength in business performance, employee culture, community affairs, and volunteer activities.
The guest speaker for the dinner was ADM Bill Lescher, 41st vice chief of Naval Operations.
About The Patuxent Partnership
The Patuxent Partnership is a nonprofit member organization that fosters collaboration between government, industry, and academia to advance education through STEM-based initiatives; to advance technology through speaker programs, forums, and networking; to advance science and technology transfer through the exchange of ideas, information, and data related to technologies; and to increase workforce development through an array of initiatives.
To learn more about The Patuxent Partnership and its programs, visit its Leader member page.