Pax Museum Building to Rise in February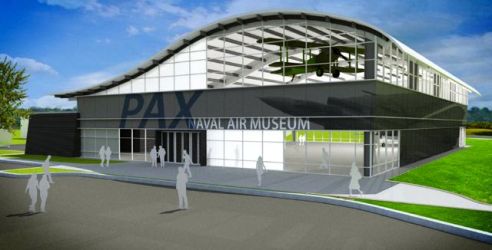 Posted for the Patuxent River Naval Air Museum
Community Builder
By Jay Friess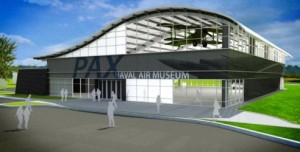 The frame of the new Patuxent River Naval Air Museum in Lexington Park, Maryland will begin appearing in February 2013, and the roofing and exterior wall could be in place by April, according to George Erichsen, director of the St. Mary's County Department of Public Works and Transportation.
Speaking at The Patuxent Partnership's annual meeting at the Southern Maryland Higher Education Center Wednesday, Mr. Erichsen said the framing may require a partial closure of Route 235, but quickly added, "It'll be on a weekend."
Mr. Erichsen said it would be August before the interior of the 21,000 square foot building takes shape. The project broke ground Oct. 16, and he said it is on a 365 calendar day construction schedule.
Broughton Construction Company has pledged to bring the $5.1 million facility in on time and on budget. However, Mr. Erichsen said the county would be inspecting the project constantly to ensure quality. "On time and on budget doesn't mean anything if you don't have the quality."
Federal funding provided $3.4 million for the project. Ed Foresman, president of the Museum Association, followed Erichsen to the podium and thanked officials for securing the funding. "Steny Hoyer, John Bohanan, thank you very much. We wouldn't be here without you guys."
Mr. Foresman also thanked The Patuxent Partnership for its $4,000 grant to the project.
Museum Association treasurer George Hurlbert acknowledged that "dirt is actually moving around" at the museum construction site, but said the interior displays still need financial support.
"It's one thing to have the square footage; it's another thing to populate that square footage with things that are meaningful," Mr. Hurlbert said.
Hurlbert said the museum aims to tell the history of naval aviation and explain the history and current function of Naval Air Station Patuxent River; Naval Air Systems Command (NAVAIR); Research, Development, Test and Evaluation; flight testing; simulation; and Navy laboratories. The museum also aims to explain how Pax River affects us today.
The museum also wants to integrate a program called Air Combat Experience, which teaches students math and engineering skills through the simulation of a carrier flight deck.
"We want to be the showroom for NAVAIR," Hurlbert said. "We seek, we need, we want your involvement."