Patients Share Stories of Sepsis Survival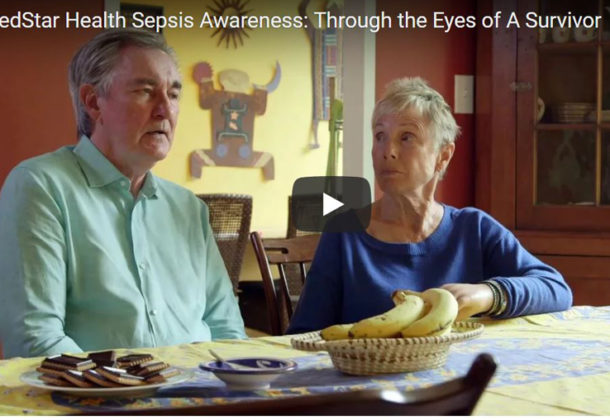 Sepsis is a dangerous, fast-moving infection that can lead to coma, tissue damage, organ failure, amputation of limbs, and death. MedStar St. Mary's Hospital in Leonardtown is committed to sepsis survival. Two former sepsis patients recently shared their stories.
One woman, Jennifer, identified by her first name only, was taken to the Emergency Department in August by her husband after falling ill for several days. Jennifer had first noticed an infected ingrown hair on her leg, which she treated and forgot. Soon, though, the small infection became more serious. She started to feel sicker over the weekend and stayed home from work Monday.
"I could not get out of bed," Jennifer, a California, Md., resident said. "I stayed in bed all day Monday, and that's not like me."
She went to work on Tuesday, but became even sicker, with chills and uncontrollable shaking. Her co-workers reached her husband and he took her to the hospital. She said the ED was full, but she was quickly taken back to a room and hooked up to IVs.
"There was a point when I was in the Emergency Department and I remember feeling like I was not going to make it out of there. I have never felt so sick in all of my life," she said.
When she first arrived in the ED and was triaged, the nurse knew what her symptoms were and a Code Sepsis was called. Code Sepsis was first instituted at the hospital in September 2016. The treatment protocol is designed to quickly diagnosis sepsis patients so that life-saving medications can begin. Antibiotics are effective in battling sepsis, but the infection spreads so rapidly that delayed treatment increases the risk of death.
"My doctor said it would take a lot of time for my body to recover," she said. The doctor also said that if she had stayed home alone that Tuesday, she probably would have been in much greater danger of coma or death.
It has taken several months for Jennifer to regain her strength, but she has made a full recovery.
Saving Lives Through Education
Cheryl Douglas of Chevy Chase had a very different outcome.
Ms. Douglas has recently retired in 2006. After being out during the day, she came home and began to feel ill, as if she had the flu. She remembers going to the ED and sitting for several hours, waiting to be seen. Her next memory came two months later, when she woke up from a coma.
During her coma, Ms. Douglas' husband, Paul, and her doctors had to make the painful decision to amputate her feet and hands to save her life. She has been through years of physical therapy, relearning basic life skills like walking and cooking, but Ms. Douglas has finally regained her independence. She spends time cooking and traveling with her husband, and is now determined to help others survive sepsis.
"Two hundred and fifty thousand people die each year in this country due to this totally treatable health condition," said Mr. Douglas, who, with his wife, recently shared Ms. Douglas' story at the Southern Maryland Sepsis Collaborative hosted by MedStar St. Mary's Hospital.
"Paul and I had never heard of sepsis and we had no idea what to do," said Ms. Douglas. "If people know the symptoms, they are more likely to go to the doctor."
Cheryl and Paul Douglas said they believe that education of health care workers and the public is the main key to reducing deaths by sepsis. "We could save so many lives in such a relatively easy way," Mr. Douglas said.
See a video of an interview with the Douglases on the MedStar website.
For more information and one-click access to a full list of resources available at MedStar St. Mary's Hospital, visit their Leader Page.