P-3 Training Team Gets Magazine Honor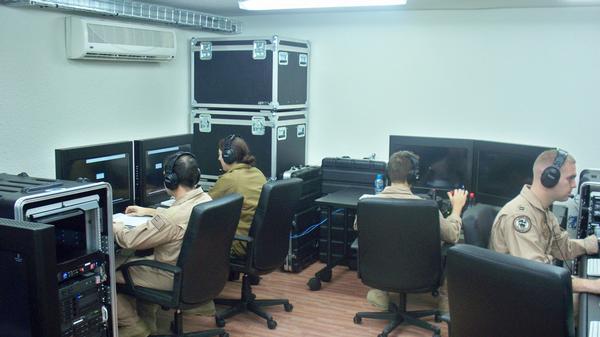 An aviation industry publication honored a Patuxent River-based P-3C trainer team for its achievements during a ceremony held in Washington, D.C., on March 7.
The P-3C Aircrew Tactical Team Trainer (PACT3) integrated product team was a finalist in the Information Technology/Electronics category at Aviation Week's 55th Annual Laureate Awards for responding to an urgent request by forward-deployed Maritime Patrol and Reconnaissance Fleet (MPRF) leadership.
P-3C team representatives Lt. Cmdr. Rob Huntington, from Naval Aviation Training Systems Program Office (PMA-205), and Capt. William Reuter, of the Naval Air Warfare Center Training Systems Division, Orlando, Fla., attended the event on behalf of the group.
For the first time, a training device allows P-3C Orion patrol squadrons to hone their anti-submarine warfare skills while deployed to remote locations. The PACT3 originated from an operational fleet requirement and grew through the innovation and dedication of the Navy, private industry partners and fleet operators. The first two simulators were recently delivered to Bahrain and El Salvador.
Established more than 50 years ago, the Aviation Week Laureate Awards recognize the accomplishments of individuals and teams in the aerospace, aviation and defense industry.

Source: AIR-1.0 Public Affairs