New Sign Welcomes Annmarie's Visitors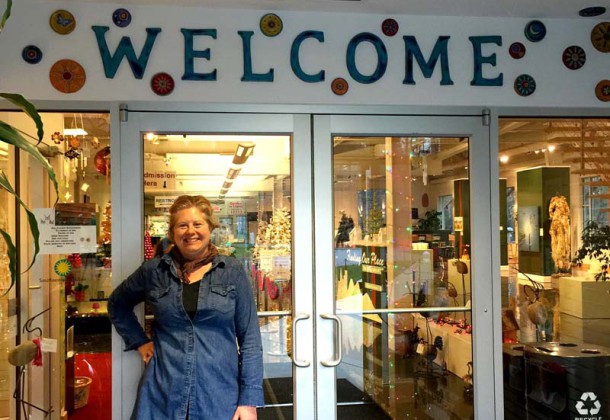 Southern Maryland artist Parran Collery has created a new welcome sign installation at Annmarie Sculpture Garden and Arts Center in Solomons, Maryland. The sign was created from tiles, each of which was lovingly formed, fired, and glazed in Ms. Collery's funky Prince Frederick studio.
Ms. Collery created the beautiful tiles by combining natural elements with geometric shapes, reflecting the art and nature that is behind Annmarie Garden.
"The main inspiration for this Welcome Sign project was the spirit of Annmarie Garden, an attempt to emulate the creative playfulness of the garden and its activities, and the arts building itself," Ms. Collery said. "In developing the design with Stacey Hahn-Ruff, we zeroed in on the modern and accessible nature of the building, its strong sense of color and contemporary design. Rather than contain the sign within a traditional rectangular format, we decided to allow the components to be 'loose,' dancing across the wall, with some of the circle elements traveling up onto the ceiling and adjacent walls. Escaping Circles becomes a fitting title for this piece. Annmarie Garden has a strong and longstanding history of patronage of sculptural tile work, and I am excited to be included in that tradition."
Ms. Collery is a tile artist. She used the Welcome Sign project as a fun and dynamic opportunity to play with color, pattern, and texture on a large scale. She has participated in ArtsFest for years and sells her work nationwide through her company, Eartha Handmade Tile.
An affiliate of the Smithsonian Institution, Annmarie Garden is located in scenic Solomons on the Chesapeake Bay. The sculpture garden features a walking path that meanders through the forest past permanent and loaned sculpture, including more than 35 works of art on loan from the Smithsonian Institution and the National Gallery of Art.
Annmarie Garden also presents a variety of award-winning special events, gallery shows, and engaging public art programs. Annmarie Garden's Studio School offers creative classes for all ages and abilities taught by a talented faculty. Annmarie Garden is conveniently located just off Route 2-4, on Dowell Road in Solomons. It is open 9 am to 5 pm daily; the Murray Arts Building and Gift Shop are open 10 am 5 pm daily. To learn more, visit www.annmariegarden.org.
To learn more about Annmarie Sculpture Garden and Art Center, visit their Leader member page.