Navy Unmanned Weapon Systems Gets Director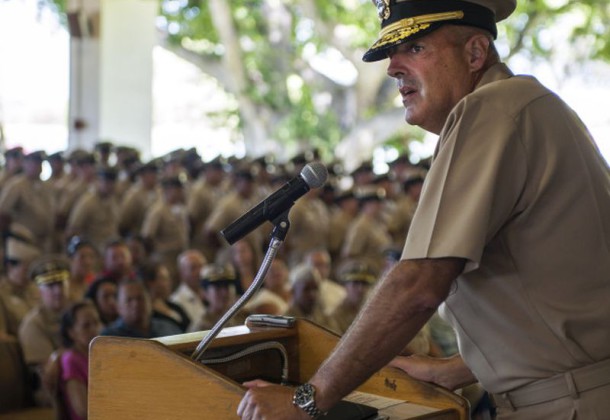 Morning Coffee is a robust blend of links to news around the internet concerning the Naval Air Station Patuxent River economic community. The opinions expressed here do not necessarily reflect those of the Leader's owners or staff.

Navy names RADM Robert P. Girrier, currently the deputy commander of the U.S. Pacific Fleet and career surface warfare officer, its first director of unmanned weapon systems, reports USNI.
After three years of success in Afghanistan, the Marine's helicopter drone isn't sitting long in storage, Kaman, maker of the K-MAX unmanned helicopters, is making commercial deals now, reports DoD Buzz.
Dramatic photos show F/A-18 Hornets launching night air strikes on ISIS, on The Aviationist.
Navy debuts its third Littoral Combat Ship's ability to conduct repairs in transit, reports DoD Buzz. Meanwhile the first LCS has gone into dry dock.
Noting "space is hard," NASA and SpaceX officials express disappointment about the SpaceX Falcon 9 Rocket explosion minutes after launch, reports International Business Times. The rocket was unmanned, carrying supplies to the International Space Station.
After all the clamor, net neutrality has been in place for two weeks and nothing much has changed for anybody, reports The Hill.
Three US Senators, including Maryland's Ben Cardin, returned from Cuba to urge  lifting a travel ban on US citizens, a provision facing Republican opposition in both the House and the Senate, reports Reuters.
The Aviationist tells the story of the legendary U-2 proving this high altitude reconnaissance aircraft — designated as a utility type to disguise its mission — proved it could launch and complete arrested landings on a carrier.
Airtec Inc.,* California, Maryland, is being awarded an $80,661,914 modification against a previously issued firm-fixed-price, indefinite-delivery/indefinite-quantity contract (N68335-14-D-0030) for intelligence, surveillance, and reconnaissance (ISR) services in support of the U.S. Southern Command. The contractor will provide ISR services utilizing a contractor-owned, contractor-operated Bombardier DHC-8/200 multi-sensor aircraft, with government-furnished property previously installed on the aircraft. Work will be performed in Bogota, Columbia (90 percent); and California, Maryland (10 percent), and is expected to be completed in September 2018. No funds will be obligated at time of award. Funds will be obligated on individual delivery orders as they are issued. The Naval Air Warfare Center Aircraft Division, Lakehurst, New Jersey, is the contracting activity