NAVAIR Recognizes International Programs Achievements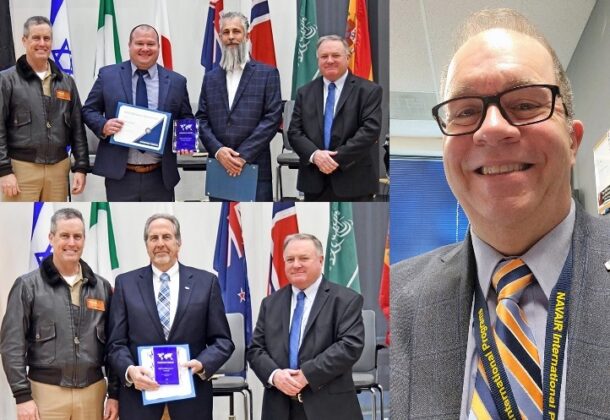 Robert Houston, right, Precision Strike Weapons program office's International Europe Command Team deputy assistant program manager for logistics, wins the International Sustainment Director's Award. Top left, the International Sustainment Center, Joint Consolidation Point-South, Gulfport, Mississippi, led by Zach Guthrie, wins the SSCO Director's Team Award, Field Site. Bottom left, Kenneth Harris, F/A-18 and EA-18G program office's Australia F/A-18 A-G program manager, wins the SSCO Director's Award, Individual. (US Navy photos)
The Naval Air Systems Command SYSCOM Security Cooperation Office recognized two individuals and two teams at its Directors' Awards ceremony last month at the Southern Maryland Autonomous Research and Technology Innovation Center in California, MD.
"The work you do here at NAVAIR, in partnership with my team at the Navy International Programs Office, equips our forces, and strengthens the forces of our international partner navies, air forces, and coast guards – with the weapons, platforms, and equipment they need to deter aggression and maintain free and open seas," said RADM Anthony "Tony" Rossi, NIPO director. "Our network of allies and partners builds alliances, delivers capability, and promotes force projection and freedom of maneuver, reducing the challenges of maintaining operational reach over extended distances."
The 2022 SSCO Directors' Awards recognize individual employees and teams for exceptional job achievement, innovation, communication, and teamwork in support of NAVAIR's security cooperation activities.
"These recipients reflect our entire community through countless examples that demonstrate a tremendous amount of work being accomplished toward delivering capability to our international partners," said Ron Weinberger, SSCO director. "They are breaking down barriers to enhance our allies and international partners' missions."
International Sustainment Director's Award – Robert Houston, Precision Strike Weapons program office's
International Europe Command Team deputy assistant program manager for logistics
Houston identified and executed all of the logistics requirements to successfully deploy, and subsequently support two mobile Harpoon Coastal Defense Cruise Missile Systems for a strategic partner nation.
"I am deeply touched and appreciative that the PMA-201 international leadership team nominated me for this prestigious award, but I believe my efforts supporting our international partner in their fight against a numerically superior invader and being successful in that fight is sufficient recognition," he said.
SSCO Director's Award, Team – Direct and Time Sensitive Strike program office's (PMA-242)
Advanced Precision Kill Weapons System Foreign Military Sales Team, led by Jenny Bell
The team transferred more than 900 APKWS guidance sections and MK66 rocket motors to U.S. inventory after closing out a case with a partner nation, resulting in the recoupment of munitions valued at more than $25 million at no additional cost to the U.S taxpayer.
"Opportunities for formal recognition by NAVAIR senior leadership serve to further motivate an already inspired PMA-242 FMS team to continue to push the envelope as an acquisition organization in terms of both rapid delivery of lethal capabilities and supporting strategic goals to strengthen our international partnerships," said Bell.
SSCO Director's Award, Team, Field Sites – International Sustainment Center,
Joint Consolidation Point-South, Gulfport, MI, led by Zach Guthrie
The combined NAVAIR and NAVSUP team provided expert logistics, shipping, and inventory management services in support of our international partners. The team processed more than 18,000 inbound and outbound requisitions for 80 different cases, 40 different countries, managed more than 15,000 national stock numbers, and shipped in excess of 8,000 individual requisitions to more than 20 different countries for FMS and security cooperative program customers.
"Our team continues to take ownership in our processes by ensuring we give the best service possible, and receiving this award is a testament to the hard work our team has put into creating relationships and trust between NAVAIR, NAVSUP and our international partners," Guthrie said.
SSCO Director's Award, Individual – Kenneth Harris, F/A-18 and
EA-18G program office's (PMA-265) Australia F/A-18 A-G program manager
While managing 14 active FMS cases and more than $3 billion for the follow-on development, sustainment, and training in support of Royal Australian Air Force F/A-18F and EA-18G aircraft, Harris was instrumental in establishing a working group required for advanced capabilities, training, and cooperative employment. He also facilitated RAAF's procurement of semi-fixed and deployable facilities for the ALQ-99 Tactical Jamming System intermediate level maintenance (ILM) capability. This initiative set the foundation to support US Navy squadrons in and around Australia and will support additional ILM capability.
"I am extremely proud to be selected as the first recipient of the SSCO Director's Individual Award and I am truly appreciative and dedicate this award to all of the Security Cooperation professionals that have guided and influenced me throughout my Navy career," he said.
SSCO International Programs Mission
The NAVAIR SYSCOM Security Cooperation Office advances US strategic objectives by supporting key allied and international partners with the acquisition, training and sustainment of US defense systems on behalf of the Naval Air Enterprise.
This article was provided by NAVAIR News.