NAVAIR Honors Managers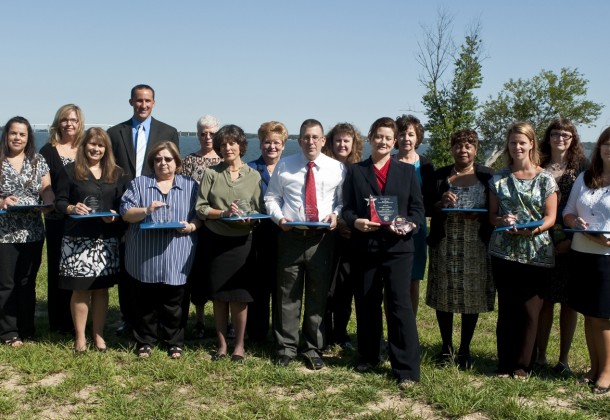 By NAVAIR Headquarters
Mentoring, leadership and customer service are just a few of the qualities demonstrated by the 18 business and financial managers who were nominated by their teammates for NAVAIR headquarters' first Award for Excellence in Financial Management Service.
About 200 colleagues and customers attended the Aug. 30 ceremony at Naval Air Station Patuxent River, Md., to honor the nominees and winners.
Sharon Gellerson, director, Program and Business Analysis Department, established the award to recognize those business and financial managers (BFM) who have focused on customer and program needs to find new methods of meeting or exceeding customer and program expectations, and improved customer and program perceptions of [department] services through enhanced customer satisfaction.
"I am pleased to have so many nominees for our first year," Gellerson said. "There are five in the supervisory and 13 nominations in the non-supervisory category." She thanked those who took the time and made the effort to prepare a nomination package.
The winners were selected by three judges outside of the Program and Business Analysis Department.
Julie Blankenbaker, assistant PEO(BFM) for PEO(U&W), won the Supervisory category award for her technical expertise, business acumen and positive impact on fleet readiness by protecting critical program funding.
Blankenbaker is frequently sought out by [Financial Management and Budget Office] and [Assistant Secretary of the Navy, (Research, Development and Acquisition)] for advice based on her financial expertise and leadership ability. Blankenbaker has proven many times that she has what is needed to guarantee success in today's rapidly changing business and financial management world.
Kristina Laspada, lead BFM for PMA-226 located at Cherry Point, N.C., won the non-supervisory category for her achievements in support of the rapid delivery of capability to the warfighter.
Laspada identifies key elements of challenging situations and develops a course of action. She displays innovative skills and out-of-the-box thinking to obtain funds for vital projects, and as a result, numerous critical programs supporting the readiness, safety and capability of the warfighter were advanced from concept to the installation/deployment phase in as little as six months.