Military Spouses Highlighted at Career Event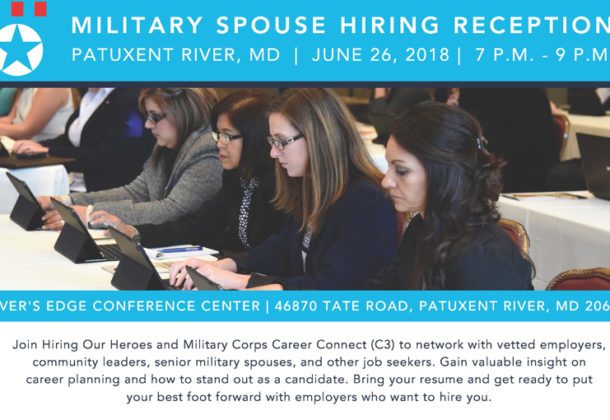 Because of the transient nature of military service, Military Spouses often have a difficult time working on their careers. However, they are often excellent candidates for an unlimited scope of jobs. To help solve this problem, The Patuxent Partnership is planning a Military Spouse Hiring Reception from 7 to 9 pm Tuesday, June 26, 2018, at the River's Edge Conference Center at NAS Patuxent River.
Participants can join Hiring Our Heroes and Military Corps Career Connect (C3) to network with vetted employers, leaders in the community, senior military spouses, and other job seekers. All involved will gain valuable insight on career planning and how to stand out as a candidate.
Every participant should bring a resume and be ready to put their best foot forward with employers who want to hire military spouses. This event is a perfect place to talk to employers who completely understand the difficulties of starting a career while being married to a person whose career includes moving, sometimes across the world, every few years.
Event features include a Corporate Fellowship Program Information Session where participants can learn about opportunities in Maryland for military spouses of active duty service members and instantly connect with employers with open fellowship opportunities; representatives from C3 who will discuss free classes and trainings for in-demand industry credentials, certifications, and licenses; and a session on LinkedIn. Does your LinkedIn profile picture need an update? Get a free professional headshot with an on-site photographer.
The River's Edge Conference Center is located at 46780 Tate Road in Patuxent River. Learn more and register online.
About The Patuxent Partnership
TPP connects the dots to foster collaboration among academia, industry, and government from technology to STEM initiatives in Southern Maryland and beyond, to promote sustainable economic vitality and enhanced quality of life. It is a non-profit member organization working to advance technology through speaker programs, forums, and networking; to advance science and technology transfer through the exchange of ideas, information, and data related to technologies; and to increase workforce development through an array of programs and initiatives.
To learn more about The Patuxent Partnership and its programs, visit its Leader member page.