Maker's Market at Annmarie Set Sept. 2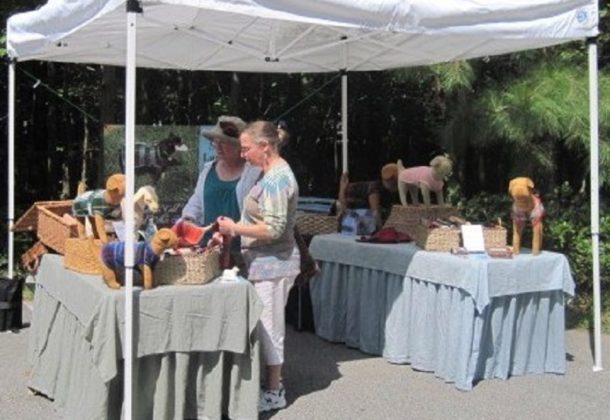 Annmarie Sculpture Garden & Arts Center in Solomons will hold a Maker's Market from 9 am to 1 pm Saturday, Sept. 2, 2017. The market is a chance to find original and unique gifts and experience the delightful arts center for free.
Come see the homemade, homegrown, and handmade goods. The wonderful Maker's Market items include handmade jewelry, handcrafted chocolates, and other thoughtful gifts.
Ample, accessible, and convenient parking is located in the parking lot and adjacent parking field. Handicap parking is available through the main gate. Begin your day in the comfort of the indoors, shop for a friend or yourself, enjoy art, peruse the artLAB, take a walk along the outdoor path, visit the gift shop at Annmarie, register for an art class, and learn more about Annmarie Garden, for free!
Other 2017 markets will be held 9 am to 1 pm Oct. 7, and 9 am to 2 pm Nov. 4, and Dec. 2, 9, and 16.
For additional information on the Maker's Market, call 410-326-4640.
Ongoing Exhibit
Don't forget to check out the Kindred: Celebrating Our Ancestors exhibit. It will be showing until Jan. 28, 2018.
About Annmarie Garden
An affiliate of the Smithsonian Institution, Annmarie Garden is located in scenic Solomons, Maryland, on the Chesapeake Bay. The sculpture garden features a walking path that meanders through the forest past permanent and loaned sculpture, including more than 35 works of art on loan from the Smithsonian Institution and the National Gallery of Art. Annmarie Garden also presents a variety of award-winning special events, gallery shows, and engaging public art programs. Annmarie Garden's Studio School offers creative classes for all ages and abilities taught by a talented faculty. Annmarie Garden is conveniently located just off Route 2-4, on Dowell Road.
Annmarie Garden is open from 9 am to 5 pm daily; and the Murray Arts Building and Gift Shop are open from 10 am to 5 pm daily.
For more about Annmarie Sculpture Garden and Art Center, visit its Leader member page.