Local Execs Briefed on Housing, Human Services Challenges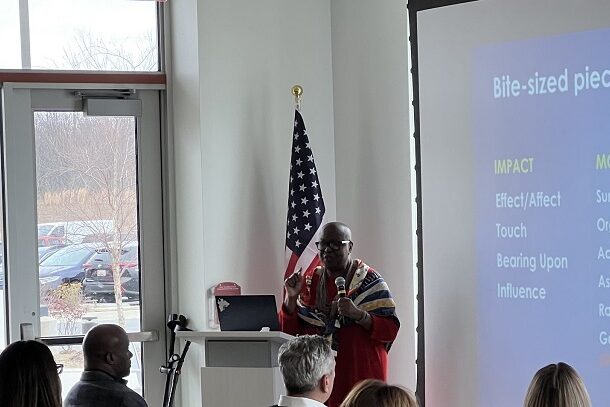 The Leadership Southern Maryland Executive Program Class of 2023 convened February 2 to study the tri-county area's critical housing and human services challenges. They explored the needs and concerns of low-income families, the unhoused, and residents dealing with mental and behavioral health issues related to economic challenges.
Cathy Meyers, Center for Children executive director and LSM founding sponsor, introduced the executives to the Adverse Childhood Experiences assessment. ACE assessments raise awareness of how childhood experiences of domestic violence, parental behavioral health issues, and economic insecurity can affect one's ability to thrive in adulthood.
"I found the ACES survey interesting and liked the detail that was given about how important those early years in a child's life can have major impacts on their future," said Jennifer Raley, energy and technology programs manager at SMECO. "How do we help kids that are dealing with so much negative in their lives growing up?"
Participants spoke with panels of human services, behavioral health, and housing specialists about challenges Southern Marylanders face in securing affordable housing and accessing the many community resources available to support them. Lack of reliable transportation and difficulty getting information about available resources continue to be significant challenges to some residents.
Turning to solutions, Stephanie Rolle, United Way of Southern Maryland CEO, discussed how the class, as senior executives, can have a positive impact in tackling Southern Maryland's housing and human services challenges. Ms. Rolle led the class through the United Way's Asset-Limited, Income-Constrained, Employed, Simulation and Report, or ALICE, giving participants a window into economic insecurity, knowledge of Southern Maryland economic data, and awareness of how easily individuals can be financially derailed by unforeseen circumstances and expenses.
Solutions explored by LSM participants included supporting the efforts of community resource organizations to facilitate more community collaboration, create more information access points, and explore new revenue streams to fund support services.
"Executive program participants engage in 25 hours of community service with nonprofit organizations during their program year," said LSM Executive Director Sybol Anderson. "This makes these executives and the LSM alumni network useful connectors between organizations and valuable support resources for them."
Leadership Southern Maryland's Executive Program is an interactive and life-enriching nine-month, tuition-based "behind-the-scenes" experience designed to enhance the collaborative abilities of the region's top senior professionals.
LSM is now accepting applications for the Class of 2024. Mid- to senior-level executives representing diverse geographic locations, industries, professions, ethnicities, genders, and other backgrounds who are committed to addressing the community needs of Calvert, Charles, and St. Mary's counties can apply.
For more information, click here.