Lexington Park Seeks Artist for First Public Mural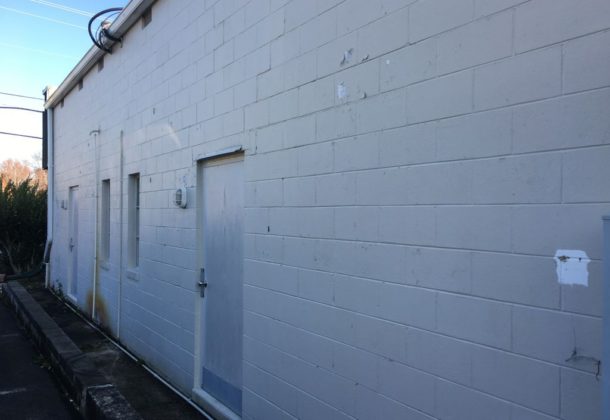 Are you an artist who wants to see your work out in public? Do you think big? The St. Mary's Community Development Corp. wants your design proposal for a mural in black and white plus one accent color to appear on all or part of a 15-foot-high and 50-foot-wide cinderblock wall visible from a busy Lexington Park intersection.
With a grant from the Southern Maryland Heritage Area Consortium and the generous cooperation of Earley Properties, the CDC will have the selected design reproduced onto Bank Square Building on South Shangri-La Drive near its Great Mills Road intersection.
To enter the competition, submit a detailed sketch depicting your answer to the theme: What Does Lexington Park Mean to You? – Lexington Park Comes Alive! Submissions are due March 10, 2017, at the St. Mary's CDC offices in Suite 7 of Bank Square Building at 46940 S. Shangri La Drive in Lexington Park, MD 20653.
No previous experience is necessary. A decision will be made by a jury and based on how well the sketch depicts a community vision of a slice of life in Lexington Park. You may use one image or a series of images that are cohesively incorporated into the design.
Competition, submission, and judging details are available here as well as instructions on submission delivery. All submissions become the property of St. Mary's County Community Development Corp.
The winning design will be announced April 9 at the CDC's ArtsPark Cherry Blossom Festival. This ArtsPark Festival will celebrate public art during the April 8-9 weekend with a variety of events in addition to the public presentation of all submissions to the mural competition and the announcement of the winner.
The Cherry Blossom Festival seeks to raise funds to save the up to 200 flowering cherry trees still growing along the crumbling roads in the old Lexington Manor neighborhood  surrounding the Three Notch Theatre.
The mural design submissions should be no smaller than 9 inches by 12 inches and preferably larger. The sketch should be in proportion to your vision and to the size of the wall.
To contact CDC's ArtsPark project manager, in charge of the Lexington Park mural program, email LexingtonPark.Live@gmail.com. Or leave a voice mail message at 301-863-7700.
The CDC, a non-profit formed in 1985, creates and administers plans and programs to address revitalization and other county development needs, specifically in Lexington Park, Maryland. Until 2013, the CDC operated as an adjunct agency of county government. The corporation no longer receives direct financial support from local government.
Lexington Park news is SPONSORED BY