Hundreds Attend Airport Ribbon-Cutting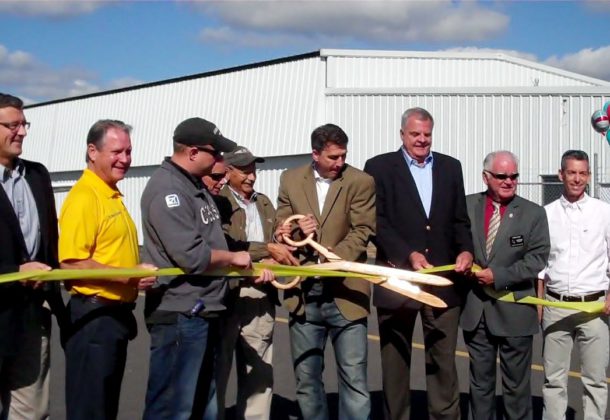 There were multiple reasons for last week's celebration at St. Mary's County Regional Airport, hosted by S. Hunt Aero. There was the opening of a new taxiway, expansion of Patuxent Aero Solution's engineering and fabrication facility, the new flight training school GT Aviation, new hangars, the University of Maryland UAS Test Site, and the Technology Incubator under construction. But what it looked like was a day of fun.
More than 325 people attended what was formally billed as the ribbon-cutting at the taxiway. But the real stars of the day where 10 remarkable aircraft parked for visitors to see up close and, for many of the aircraft, a chance to climb aboard. Among the aircraft on display were the  Sea Harrier, an L39 Albatross (both owned by Nalls Aviation), a Robinson 44 helicopter, a gyrocopter, a vintage Stearman biplane, Lambada motorglider, and a BD-5 micro jet, the lightest jet ever made. Charlie VandenBossche also had his Aerostar Yak 52TW that he refers to as "The Romanian Mistress".
The University of Maryland UAS Test Site enthusiastically provided support space and had  their unmanned aerial vehicles on display. Staff was there and glad to answer questions. A small vehicle was launched from the foundation pad of the future Technology Incubator location and took great near overhead pictures. "The economic promise of linking all of these unique assets, both from traditional aviation and now the autonomous technologies, puts us on the cutting edge of a new frontier," said Matt Scassero, head of the UAS Test Site.
More than a third of the attendees were children who received gliders and wind-up aeronautical toys to entertain themselves during the speeches, which were short, as Ken Reed, partner of S. Hunt Aero, promised. But Mr. Reed did take the time to praise nearly 100 local contractors who have been working to bring the regional airport to the fore. The combined effort of local contractors,  government, consultants, and even bankers have set the path for a stellar future at the airport, he said.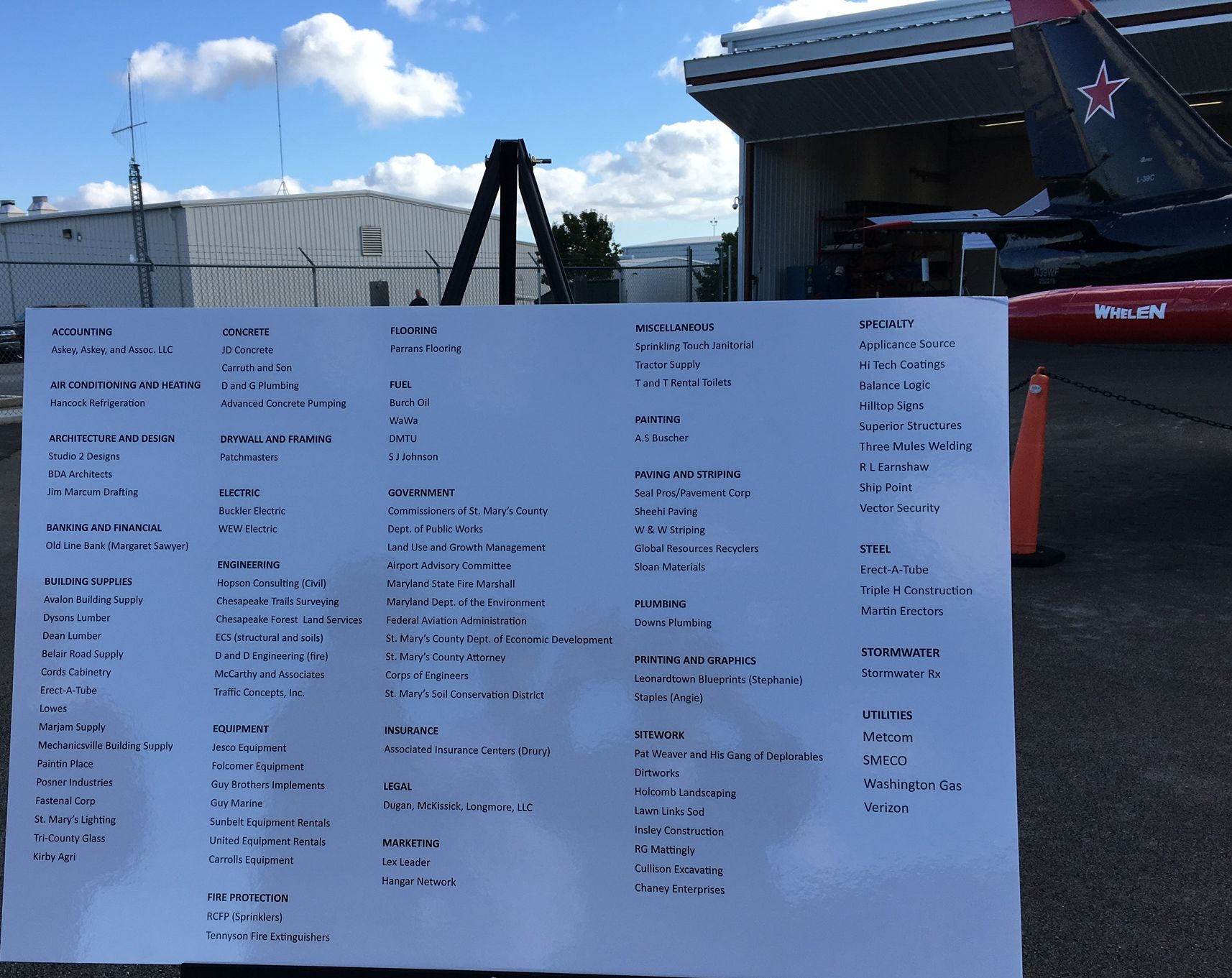 Mr. Reed particularly recognized Margaret Sawyer of Old Line Bank, who he praised for spending three years learning about the airport so to be the maximum help as a lending partner.
Also singled out was JD Concrete whose patent-pending concrete forms provided the foundation for the new Technology Incubator. "Think about that," Mr. Reed said,  "the first thing used to pour the foundation for the Technology Incubator is a locally made, patent-pending product."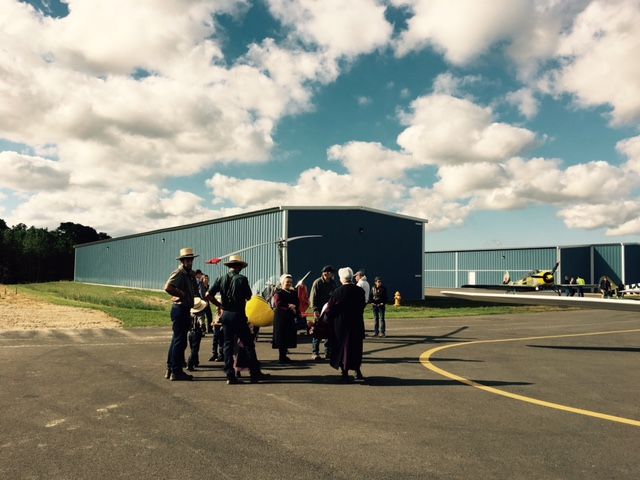 And in a further blend of very local and very high tech, Mr. Reed praised an Amish business, bringing up Rueben Hertzler who with his two brothers run
Triple H Construction
, the steel erector.
Noting both the full parking lot of event attendees, Mr. Reed anticipates more "aviation and educationally themed events." The airport  is adjacent to the Southern Maryland Higher Education campus, also on Airport Road, and expanding as well.
"The economic and community benefits of the  St. Mary's County Regional Airport cannot be overstated. St. Mary's County is a peninsula with no interstate, no rail, and no port. This makes the airport critical to business to operate here. Charters come in and out of here with teams of management from national chains such as Belk's, JCPenney, Weis Markets, Cove Point Gas, and others. Having the airport right in the middle of our prime area of commerce is a benefit few realize.
"There are 3,500 counties in the US but there are 5,300 public  airports! Less than 600 of these have scheduled air carriers. Most companies are located within a short drive of where they can use a corporate aircraft or charter to fly into St. Mary's County.  They can operate in and out of here without the time consuming need to go through an airport with scheduled service and even conduct business while in flight then be at their destination within minutes of landing."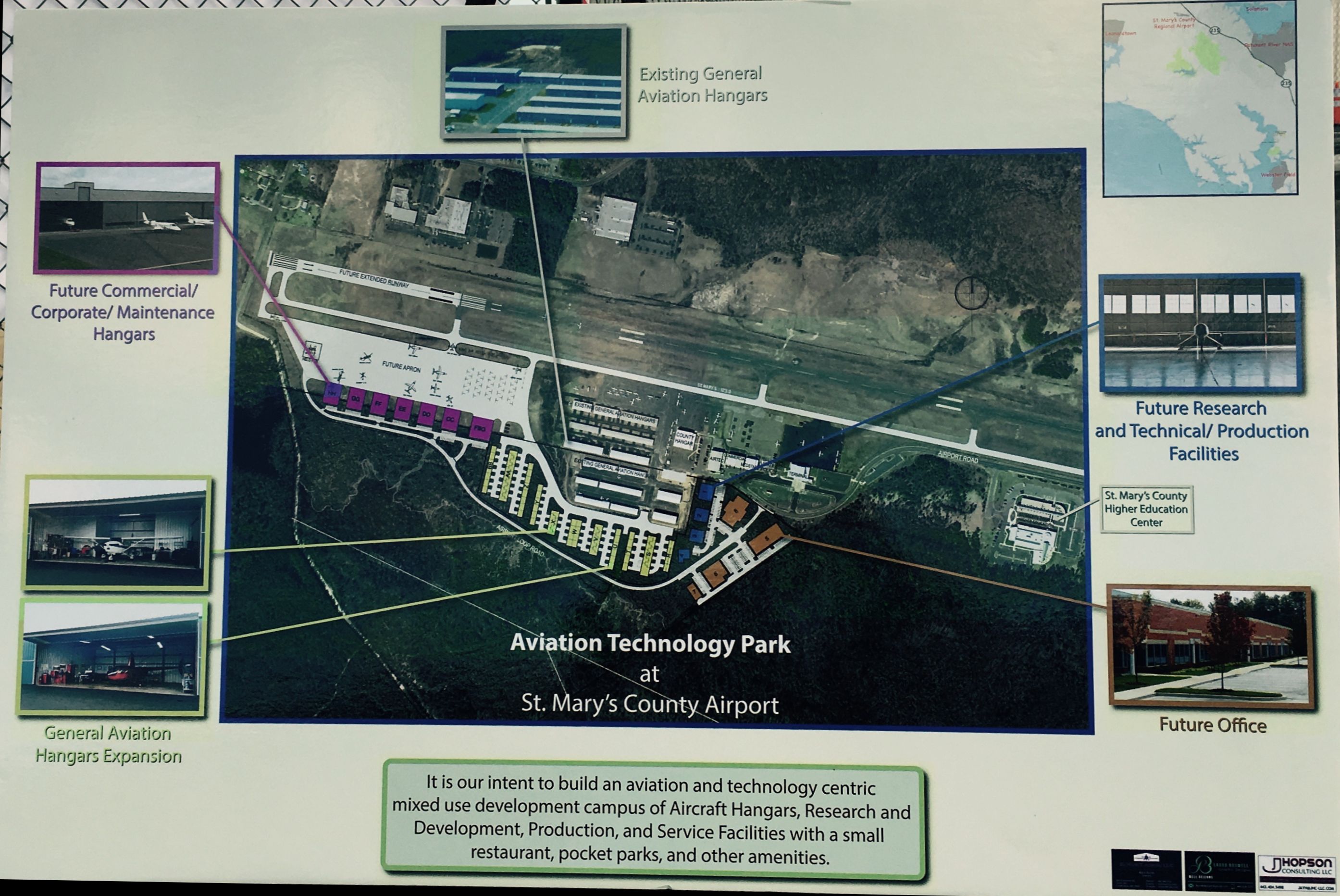 "There is no reason why, with the construction of Building 3 at the Southern Maryland Higher Education Center next door, the University of Maryland UAS Test Site, the Technology Incubator, and the general expansion of the airport that Airport Road cannot become the most important road in St. Mary's County," Mr. Reed said.