Hoyer Joins Podcast to Discuss Issues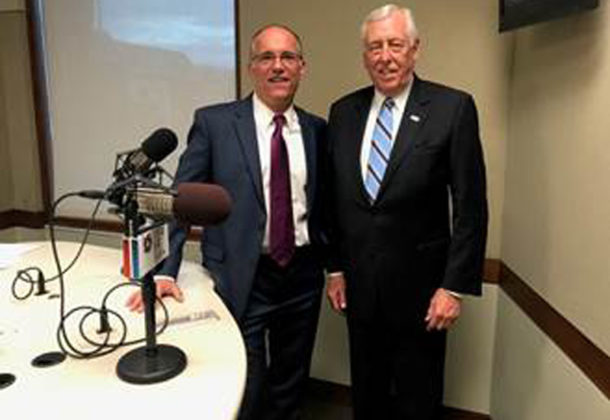 Congressman Steny H. Hoyer recently appeared on The Bruce DePuyt Podcast to discuss a number of issues currently being faced by Congress and the American people. Congressman Hoyer talked with Mr. DePuyt about the current open enrollment period for health care insurance coverage, the Republicans' tax bill and its effects on Maryland families, and a recent trip to Puerto Rico to see disaster relief efforts.
Click here to listen to the podcast.
In the podcast, Congressman Hoyer (D-Md., 5th) discussed his disapproval of the attempt to sabotage the Affordable Care Act and Open Enrollment.
"I think it's very unfortunate that this administration, and frankly Republicans in Congress, have done everything they can to undermine the confidence of insurance companies in the stability of the market, which has led to much higher premiums because they've had to price their product thinking the worst will happen," Congressman Hoyer said. He urged listeners to remember that if they have a policy on the exchange, or if they want to look at a policy, their opportunity to do so has been shortened by 45 days, half of what it was before.
The open enrollment period is now Nov. 1 to Dec. 15. "I would urge everybody who needs insurance, wants insurance, or has insurance to go on HealthCare.gov and see what their options are. Because circumstances have changed, and prices may have changed, and coverage may have changed," Congressman Hoyer said.
Congressman Hoyer also said Republicans are having trouble with their tax bill proposals. He said the attempts to change the tax laws have not included any hearings, so citizens are unable to testify about the bill and no suggestions from the public will be heard.
"They are rushing to judgment," he said. Congressman Hoyer said the bill is likely to create about $1.5 to $2.5 trillion in additional debt for the country.
"And most of that money is going to go to the wealthiest people in America. … This is a bill that is not going to help working people in America, but is going to be a bonanza for people at the upper end of the scale," he said.
Congressman Hoyer also used his time on the podcast to discuss the federal government's response to the disaster recovery in Puerto Rico and the US Virgin Islands. The regions have been devastated by one of the worst storms in history, and Congressman Hoyer says the US government cannot abandon the Americans who live there.
"I was down there last weekend with the majority leader – Mr. [Kevin] McCarthy – and we saw extraordinary devastation. People who were unable to get water, food, medical – it is now a month after Maria and six weeks after Irma. … And as we want to make sure that the citizens are made whole in Houston, and in Florida, we need to do the same for our fellow citizens in Puerto Rico and the Virgin Islands," Congressman Hoyer said.
Still, Congressman Hoyer said FEMA workers are doing the best they can to help the residents of these territories. He said these hard-working staff members need the support of the federal government.
Follow Congressman Hoyer on Facebook and Twitter.
For more information about House Democratic Whip Steny H. Hoyer, visit his Leader Page.