Hastings Wins Ocean City Boxing Bout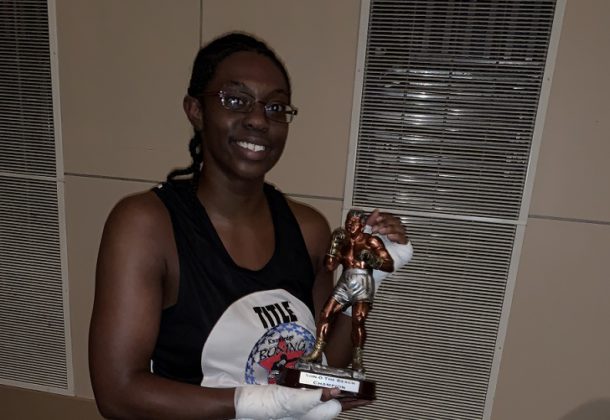 Nykhia "Babygirl" Hastings of Knowledge Boxing Center in Lexington Park won her third bout at the Baddest Sun O' the Beach boxing competition Oct. 12 in Ocean City, MD.
The Great Mills High School senior and Lexington Park resident trained hard for the contest at the boxing center on Great Mills Road.
The bout, which was held at the Roland E. Powell Convention Center, was hotly contested from the opening round. Ms. Hastings was able to give her opponent a standing eight count in the first round. She continued to use her in ring intelligence, skills, and punching power throughout the bout to earn a three-round unanimous decision against the hometown opponent.
Ms. Hastings described her preparation for the fight as "intense."
"There was a lot of conditioning, improving my skill and speed, and a lot of running," she said.
Before entering the ring, Ms. Hastings said that she was not nervous and her excellent training, conducted at the Knowledge Boxing Center under Head Coach Daryl Hinmon, allowed her to enter the ring with confidence.
"Babygirl is one of our hardest workers in the gym," Mr. Hinmon said. "She's physically and mentally tough, stands tall when challenged, and makes very intelligent decisions both inside and outside the ring. She has a very high character, and you can always count on her to have a great attitude and do her very best."
Of her bout, Ms. Hastings said she was "very focused on landing my punches at different angles. I wanted to keep her eyes occupied so she couldn't see my power punches. I also wanted to dictate the pace."
Ms. Hastings described her Ocean City opponent as "some good work" and said, "She came ready to work." The GMHS senior was happy when she was announced the winner of the bout, but was even more satisfied that she did her best and had fun.
What's next for Ms. Hastings?
"I'm ready to go wherever boxing takes me!" she says. "If it eventually takes me to the Olympics, then we'll go to the Olympics. If it eventually takes me professional, then we'll go professional. I have a lot of work to do, but I'm going to remain obedient to the sport."
Coach Hinmon had only praise for Ms. Hastings.
"Babygirl is a great kid! She's a great representative of her family, GMHS, the Junior ROTC, St. Mary's County, and Knowledge Boxing! We are proud to have her on our team and look forward to her continued growth both inside and outside the boxing ring."
To learn more about Knowledge Boxing Center, call 301-481-2978 or click on the Knowledge Boxing Center link provided above.
The organization is located at 21310 Great Mills Road, Lexington Park, MD 20653.