Garden In Lights Open to Pets Jan. 1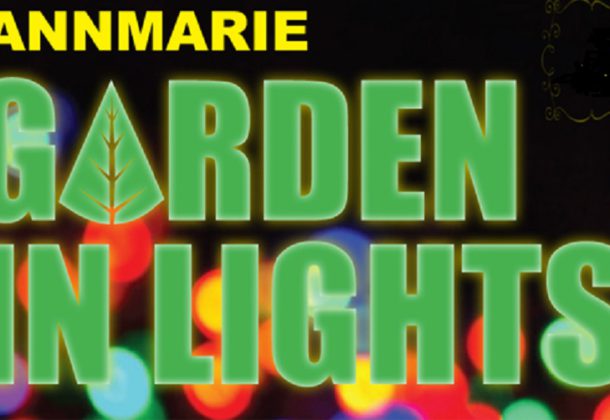 Annmarie Sculpture Garden and Art Center will be open to pets on the final night at Annmarie Garden In Lights.
Pet lovers are invited to bring their faithful companions to enjoy the magic of Garden In Lights from 6 to 9 pm on Sunday, Jan. 1, 2017. Guests are asked to have their well-behaved pets on a short leash. Joining the fun will be Greyt Expectations Greyhound, Feral Cat Rescue, Wag-n-Wash, Peppers Pet Pantry, and Solomons Medical Veterinary Center with animals, coupons, treats, giveaways, and lots of information to share.
Entertainment will be provided by Susan J. Berman with rock, folk, and bluegrass music. Guests can enjoy Annmarie Garden's "Fur, Feathers, and Fins: our Faithful Pets" exhibit and play the Holiday I Spy game. The Hardesty Haven Holiday Cafe will be open with a variety of refreshments. The event is sponsored by Solomons Medical Veterinary Center.
Admission is $2 for pets, $6 for ages 5 and older, free for kids 4 and younger, and free for Annmarie members.
For more information, call 410-326-4640 or visit the website linked to above.
In the current "Games: from Marbles to Minecraft" exhibit, visitors will see an exploration of game history, development, and innovation, from game design, to production, packaging, and marketing. Artists were invited to also consider how the art of games has changed over time and to speculate what the future of gaming might hold.
Contributing artists for the show include Allen Alejo, Chelsea Anspach, Marilyn Bottjer, Barbara Boward, Rick Clement, Shannon Cramer, Evelyn Davies-Walker, Connie Dillon, Adrienne Dixon, Sherman Finch, Elisabeth Ladwig, Robert Levy, Diana Manchak, Anthony May, Mary Mazziotti, Tricia McLaughlin, Margaret Morrison, Julia Musengo, Matthew Olson, Jen Poteet, Edith Pucci Couchman, J. Luray Schaffner, Jenny Schu, Scott Teplin, Corey Valuck, and Joan Wheeler.
The "Games" exhibit will run until Jan. 16, 2017.
About Annmarie Garden
An affiliate of the Smithsonian Institution, Annmarie Garden is off Route 2-4 on Dowell Road in Solomons, MD. The sculpture garden features a walking path that meanders through the forest past permanent and loaned sculpture, including more than 35 works of art on loan from the Smithsonian and the National Gallery of Art. Annmarie Garden also presents a variety of special events, gallery shows, and public art programs.
Annmarie Garden is open 9 am to 5 pm daily; the gift shop is open 10 am to 5 pm daily.
To learn more about Annmarie Garden, visit their Leader member page.