Garden in Lights Returns to Annmarie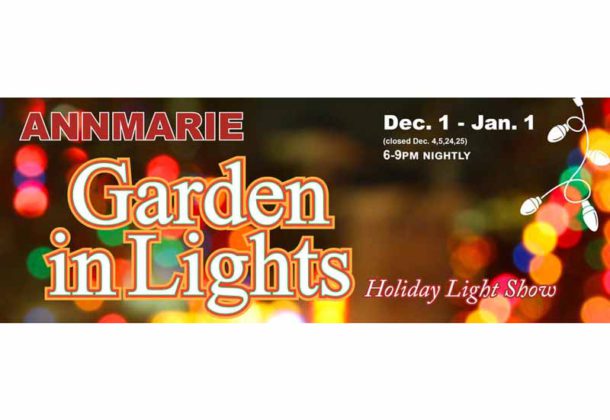 One of Southern Maryland's most treasured holiday traditions is about to begin again. Garden in Lights at Annmarie Sculpture Garden and Art Center starts Dec. 1, 2017, and continues into the first day of 2018.
This unique holiday light show features hundreds of light sculptures and more than a million lights. The light sculptures are all originally designed by Annmarie staffers past and present.
Those million bulbs make up a glittering array of vignettes that dazzle guests as they stroll the Garden path. Visitors walk through a magical world that is full of princesses, mythical beasts, dinosaurs, wild animals, scenes from outer space, sea creatures, beloved characters from storybooks, pop culture references, and so much more.
Every holiday visitor can take a stroll along the glittering quarter-mile garden path and enjoy surprises at every turn. After a walk through the lights, visitors can then come inside and enjoy entertainment every evening of the Garden in Lights. Head into the Hardesty Haven Holiday Cafe and shop the Ornament Show and Sale, plus enjoy weekend Holiday Pop-up Shops!
This month-long event at the sculpture garden includes a chance to meet Santa Claus, take pictures with Snow Princesses, enjoy a Scout Night and so much more!
From live music and entertainment on many nights to a chance to just walk the garden, there is something for all ages at this annual event, which continues to grow each year. There is even a night when you can bring your pet.
Some of the entertainment acts include:
Friday, Dec. 1, 6-9 pm — Chris Aleshire Acoustified, acoustic rock, and Joel Tuminaro on the handpan.
Saturday, Dec. 2, 6-9 pm — St. Clair Duo, festive mix.
Sunday, Dec. 3, 6-9 pm — Kristin Rebecca on the Celtic harp.
Wednesday, Dec. 6, 6-9 pm — Painted Trillium, Celtic music, and George Washington Carver Elementary Chorus, children's choir.
Thursday, Dec. 7, 6-9 pm — Lissie Deere, piano mix.
A full schedule of nightly entertainment, as well as advance tickets and discount coupons, can be found on the Annmarie website.
Throughout the month, the exhibit called "Kindred: Celebrating Our Ancestors" will be on display in the Kay Daugherty Gallery. The show runs through January 2018. Visitors are also welcome to do some holiday shopping in Annmarie's gift shop.