Games Exhibit at Annmarie Ends Jan. 16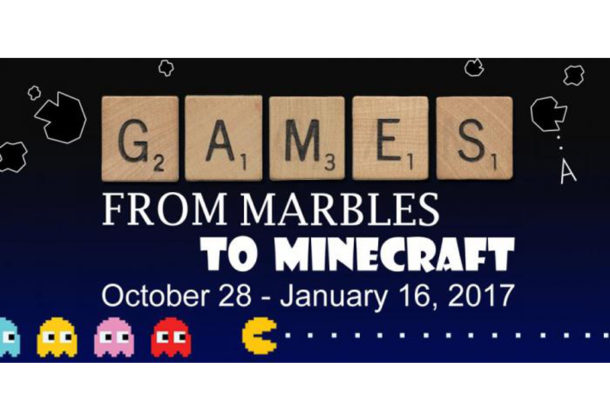 A few days remain for the "Games: from Marbles to Minecraft" exhibit at Annmarie Garden Sculpture Garden & Art Center. The Games exhibit will run until Jan. 16, 2017.

For more information, call 410-326-4640.
From primitive dice games played with small pieces of bones or shell, to early checkers games developed in Ancient Greece, playing games has long been a means of human social interaction. In modern times, game culture has evolved into a multi-faceted and predominantly commercial enterprise that includes board games, role playing, card games, and digital games, to name but a few. The "Games: from Marbles to Minecraft" explores the broad spectrum of game history, development, and innovation, including game design, production, packaging, and marketing. Artists also considered how the art of games has changed over time and speculated what the future of gaming might hold. From prehistoric games to virtual reality, this exhibit explores the role that the visual arts have played in the world of games.
Contributing artists for the Games exhibit include Allen Alejo, Chelsea Anspach, Marilyn Bottjer, Barbara Boward, Rick Clement, Shannon Cramer, Evelyn Davies-Walker, Connie Dillon, Adrienne Dixon, Sherman Finch, Elisabeth Ladwig, Robert Levy, Diana Manchak, Anthony May, Mary Mazziotti, Tricia McLaughlin, Margaret Morrison, Julia Musengo, Matthew Olson, Jen Poteet, Edith Pucci Couchman, J. Luray Schaffner, Jenny Schu, Scott Teplin, Corey Valuck, and Joan Wheeler.
About Annmarie Garden
An affiliate of the Smithsonian Institution, Annmarie Garden is located off of Route 2-4 on Dowell Road  in Solomons, MD. The sculpture garden features a walking path that meanders through the forest past permanent and loaned sculpture, including more than 35 works of art on loan from the Smithsonian and the National Gallery of Art. Annmarie Garden also presents a variety of special events, gallery shows, and public art programs.
To learn more about Annmarie Garden, visit their Leader member page.