F-35 JSF Has Friends in High Places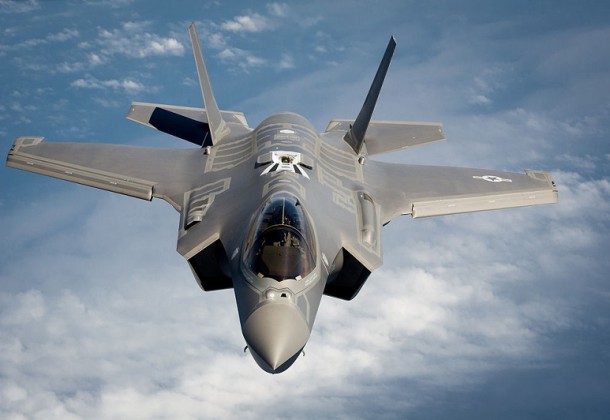 Morning Coffee is a robust blend of links to news around the Internet concerning the Naval Air Station Patuxent River

economic community. The opinions expressed here do not reflect opinions of the Leader's owners or staff.
The F-35 Joint Strike Fighter has some friends in high places. The chairman and ranking member of the House Defense Appropriations Subcommittee and 70 members of the House are calling for an agreement with the Senate to pay for 11 new F-35s in the next budget while at the same time adding $100 million to help the Air Force fund advance procurement for 2018, The Fiscal Times reports.
US military leaders are spending billions to develop the robotic autonomy they say will drive technological dominance in years to come. But the real question that arises is how will they test artificially intelligent weapons in a way that is both safe and credibly represents a battle environment, Defense One reports.
Raytheon and Italy's Leonardo-Finmeccanica have worked out their problems over a deal to sell jet trainers to the US. The plan is back on track after nearly falling apart thanks to a dispute over who calls the shots, Defense News reports. Raytheon teamed with Leonardo in February as the prime contractor to offer the Italian firm's T-100 jet trainer in the US T-X program, which could see a 350-aircraft purchase.
Military Embedded Systems reports Leonardo will deliver an initial batch of five radars to Naval Air Systems Command representatives. At which point, NAVAIR officials will then have the option to buy a larger quantity of the radars for use in real operations on the MQ-8C Fire Scout.
Raytheon will finish integrating the Joint Precision Approach and Landing System, or JPALS, on Navy and Marine Corps F-35 fighters under a recently awarded second phase of the long-running program, ainonline.com reports. The contractor also will develop autoland capability for the F-35 and the MQ-25 Stingray carrier-based unmanned refueling aircraft.
America's greatest threat? It's not Islamic extremism, a resurgent Russia, a more aggressive China, a nuclear North Korea, climate change or humanitarian catastrophes arising from failed governments in the greater Middle East, National Defense reports. It's sequestration. In a radio interview Sunday, retired Gen. David Petraeus said defense cuts have gone too far and the "threat" of sequestration must be eliminated, The Hill reports. "We spend more on defense than China and the next seven or eight countries put together," Petraeus said.
US Rep. Duncan Hunter (R-CA) said he was concerned a contract to provide Internet service to deployed soldiers could allow the use of Russian satellites, jeopardizing troops' privacy and security, The Washington Post reports.
Boeing has installed a new P-8A Poseidon training center at Naval Air Station Whidbey Island, Wash., as the base begins preparations for the arrival of P-8 aircraft beginning in 2017, Aviation Tribune reports.
Federal prosecutors said last week they will charge a former National Security Agency contractor with violating the Espionage Act, alleging that he made off with "an astonishing quantity" of classified digital and other data over 20 years in what is thought to be the largest theft of classified government material ever, The Washington Post reports. What motivated Harold T. Martin III to take the documents home remains a mystery, Washington Technology reports.
The first of roughly 500 airmen have begun flying in ski-equipped planes to Antarctica to begin the Air Force's annual Operation Deep Freeze mission. Each year, the New York Air National Guard's 109th Airlift Wing flies hundreds of missions providing airlift within Antarctica as part of Deep Freeze.
Contracts:
DynCorp International, Fort Worth, Texas, has been awarded a $63,332,000 firm-fixed-price modification (P00065) to previously awarded contract FA8617-12-C-6208 for continued contractor operated and maintained base supply support. Work will be performed at Columbus Air Force Base, Georgia; Laughlin Air Force Base, Randolph Air Force Base and Sheppard Air Force Base, Texas; Vance Air Force Base, Oklahoma; Naval Air Stations Pensacola and Whiting Field, Florida; Naval Air Station Patuxent River, Maryland; and Naval Air Station Corpus Christi, Texas. Work is expected to be completed by April 30, 2017. Fiscal 2017 Air Force operations and maintenance funds in the amount of $20,387,000; fiscal 2017 Navy operations and maintenance funds in the amount of $9,113,697; fiscal 2017 Navy research, development, test and evaluation funds in the amount of $177,000; Navy defense working capital funds in the amount of $300,000; and fiscal 2017 Army operations and maintenance funds in the amount of $325,992 are being obligated at the time of award. Air Force Life Cycle Management Center, Wright Patterson Air Force Base, Ohio, is the contracting activity.
Motorola Solutions Inc., Columbia, Maryland, is being awarded $20,459,980 under a previously awarded fixed-price contract (N39430-16-C-1812) to exercise the first option period for lifecycle sustainment of the Naval Facilities Engineering Command Anti-Terrorism/Force Protection Ashore Program Enterprise Land and Mobile Radio system at various Navy installations worldwide. The work to be performed provides for preventive maintenance of hardware and software; response and resolution of service calls for corrective maintenance to include equipment repair, overhaul, or replacement; asset and configuration management; password management; and software upgrade installation. After award of this option, the total cumulative contract value will be $41,080,268. Work will be performed at various Navy installations worldwide, and work for this option period is expected to be completed December 2017. Fiscal 2017 operations and maintenance (Navy) contract funds in the amount of $20,459,980 are obligated on this award and will expire at the end of the current fiscal year. The Naval Facilities Engineering and Expeditionary Warfare Center, Port Hueneme, California, is the contracting activity.