Enjoy Spectacular Skies Until July 23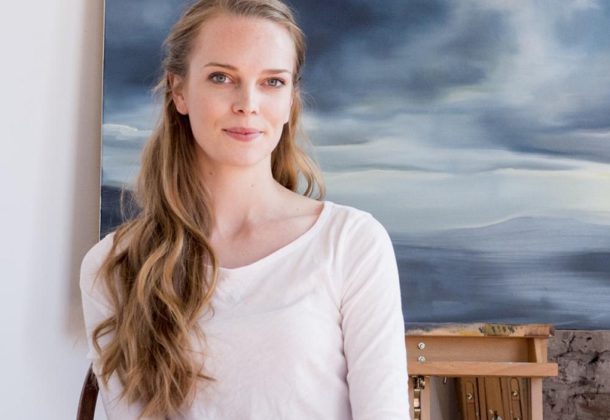 Spectacular Skies is an exhibit with more than 65 works from local, regional, and national artists that showcase the wonder and mystery of skies. The exhibition will be on display through July 23, 2017, at the Kay Daugherty Gallery in the Murray Arts Building at Annmarie Sculpture Garden & Art Center in Solomons.
The exhibit was juried by St. Mary's College of Maryland graduate Allie Snyder Datillio.
The sight of the sky stirs within us a sense of wonder and a desire to dream. From one moment to the next, our perception of the sky is changing. In the course of a day, the shifting sky can transform from severe to serene. Vicious storms become vibrant vistas in mere minutes. Blushing sunsets give way to tranquil starlight and the mysterious moon. Spectacular Skies celebrates artwork that captures the vast expanses of the celestial sphere. Works explore the sky, stars, clouds, and atmospheric phenomena that evoke a thoughtful, expressive, and visually monumental presence.
Contributing artists to Spectacular Skies are Christina Allen, Susan Arnett, Frances Borchardt, Barbara Boward, Nancy Brittle, Bonnie Bucknam, Pamela Callen, Kathleen Carlson, Jennifer Carwile, David Chan, Edward Charney, Caitlin Clifford, Karen Cohen, Parran Collery, Ruth S. Collins, Amelia Cortez, Kathy Coulson, Ann Crain, Stephen Delaney, Frank DiPietro, Mark Dierker, Gray Dodson, Brice Elliott, Linda Epstein, Vincent Ferri, Ann Friedlander, Xia Gao, Carrie Lee Gissiner, Margaret Kissel Gohn, Iris Hall-Willey, Jennifer Hecker, Donna Hixson, Lillian Hoover, Laura Laird, Hanna Lemoine, Norma LeVally, Addison Likins, Marjorie Lindsay, Joanna Macaulay, Bernard Mangiaracina, Abby McCague, Mary Morris, Rita Noe, John Okay, April Rimpo, Stephen Schiff, Myla Seabrook, Charles Andrew Seaton, Suzanne Shelden, Jill M. Smithson, Donna Strode, Nathan Taves, Chuck vonSchmidt, Lisa Ward, Katie Westmoreland, Irina Whitmer, and Chad Williams.
Call 410-326-4640 for more information.
About Annmarie Garden
An affiliate of the Smithsonian Institution, Annmarie Sculpture Garden & Arts Center is in scenic Solomons, Maryland, on the Chesapeake Bay. Annmarie Garden is just off Route 2/4, on Dowell Road.
The sculpture garden features a walking path that meanders through the forest past permanent and loaned sculpture, including more than 35 works of art on loan from the Smithsonian Institution and the National Gallery of Art. Annmarie also presents a variety of award-winning special events, rotating gallery shows, and engaging public art programs. Annmarie's Studio School offers creative classes for all ages and abilities taught by a talented faculty.
To learn more about Annmarie Garden, visit its Leader member page.