Electromagnetic Spectrum to be New Domain?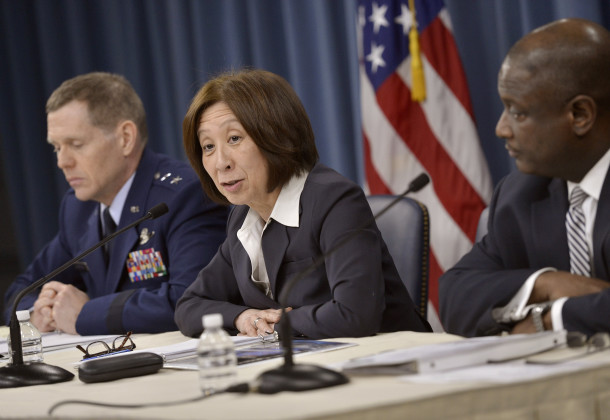 Teri Takai, center, the Defense Department's chief information officer, Air Force Maj. Gen. Robert E. Wheeler, left, the department's deputy chief information officer, and Frederick J. Moorefield Jr., right, the department's director of spectrum policy and programs, brief reporters on the department's 2014 release of its electromagnetic spectrum strategy.
Morning Coffee is a robust blend of links to news around the internet concerning the Naval Air Station Patuxent River economic community. The opinions expressed here do not reflect opinions of the Leader's owners or staff.

The DOD considers recognition of the electromagnetic spectrum as a domain, reports Defense Systems, responding to the military's increased emphasis on electronic warfare and recognition that China and Russia are developing advanced capabilities in the electronic battlespace.
Terrorist organizations' current cyberspace capabilities are of limited threat, says a report by James Lewis, senior fellow and program director at the Center for Strategic and International Studies, which also notes it "takes a large, well-resourced, and time-intensive effort to use cyber tools for major disruption or physical damage." However, non-state actors are pouring resources into becoming a greater destructive threat, reports Defense Systems.
The Manufacturer revives concerns that not only is the F-35 vulnerable to cyber attacks, testing the fighter jet for cyber vulnerabilities threaten to damage the jet's software.
The US Navy's amphibious assault ship USS America receives an upgraded flight deck to support the F-35 during future operations, reports Naval Technology.
British Defense Secretary Michael Fallon says Iraqis don't want Western Troops on the ground, in their country, to help retake cities captured by Islamic State militants, reports Defense One.
The Navy Times reports the Navy's newest ship, the USS Milwaukee, commissioned in November, broke down at sea and was towed more than 40 nautical miles to a base in Little Creek, VA.
When should police officers use military equipment? That answer is shifting for Americas, many who criticized the militarization of police in Ferguson, MO, praised similar gear to stop terrorists from inflicting more harm in San Bernardino, CA, reports Military.com.
CNN reports, a Russian warship fired warning shots at a Turkish boat as the two vessels threatened to collide in the Aegean Sea.
A Pew Research Center report finds fewer than half of Americans are middle class, 49.9 percent, down from 61 percent in 1972, reports CNN. Middle class, in 2014, ranged from an annual income of $41,900 to $125,600 for a three-person household.
Chevron and ConocoPhillips will slash spending by 25 percent next year, in response to low oil prices, reports CNN. Prices fell below $37 a barrel for the first time in nearly seven years.
Congressional bickering in the US is mild compared to the Huffington Post's video of a member of the Ukranian Parliament dragging the Prime Minister from the podium,
The New York Times reports, Mexican health authorities approve the first vaccine for use against the Dengue Virus, which sickens about 100 million people a year, mostly in Asia, Africa, and Latin America.