Deadliest Aircraft in Pentagon's Arsenal?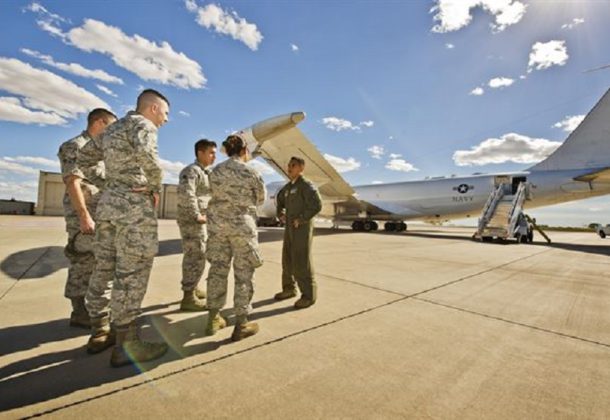 Morning Coffee is a robust blend of links to news around the Internet concerning the Naval Air Station Patuxent River

economic community. The opinions expressed here do not reflect opinions of the Leader's owners or staff.
Don't be deceived by the appearances of the E-6 Mercury, The National Interest reports. Though the Mercury doesn't carry any weapons of its own, it might be in a sense the deadliest aircraft operated by the Pentagon.
A memo from Office of Management and Budget Director Mick Mulvaney lifted the federal government hiring freeze but advises agencies to begin downsizing their workforces and submit a reform plan by September. Governing examines how vulnerable regional economies might be to these reductions.
China's President Xi Jinping calls for all sides to exercise restraint on Monday in a telephone call about North Korea with President Donald Trump, Reuters reports. This comes as Japan conducted exercises with a US aircraft carrier strike group headed for Korean waters.
China will soon be launching its first domestically built aircraft carrier as it marked the 68th anniversary of the founding of the People's Liberation Army Navy ­on Sunday, South China Morning Post reports. Military observers said the launch of the new carrier represents only modest progress in China's military modernization, given the technological gap ­between the PLA Navy and its most powerful rival in the Asia-Pacific region, the US Navy.
Navy Times reports on the USS Carl Vinson's canceled port visit and how it sparked a global crisis.
Pirates have returned to the waters off Somalia, The Associated Press reports, but the spike in attacks on commercial shipping does not yet constitute a trend, senior US officials have said.
Japan, a longtime US ally, is one of Lockheed Martin's foreign customers. President Trump said in a recent interview that Japanese President Shinzo Abe thanked him for saving Japan $100 million on its order for nearly a dozen F-35s, Washington Examiner reports. Trump claims he is responsible for convincing the aircraft's maker to knock $725 million off an order of 90 F-35s — 55 for the US and 35 for international partners. Independent.co.uk reports Trump is taking credit for a deal that had been in the works for months.
THAAD — or Terminal High Altitude Area Defense — is being called into action. The advanced missile defense systems, which consist of truck-mounted launchers that fire eight interceptor rockets, were shipped to South Korea recently after North Korea fired ballistic missiles into the Sea of Japan, the Fort Worth Star-Telegram reports. The reports says that THAAD has yet to be tested in combat but it boasts an unbroken success rate in tests.
The Unified Gunnery System augmented reality helmet, known as GunnAR, will be among the new technologies tested at the Trident Warrior exercise in June, Defense Systems reports. Sailors will be exposed to the newest innovations in naval systems warfare and provide feedback on the systems to commanders and developers.
The Marine Corps Systems Command says the Marine Common Handheld program, which will integrate software and security mechanisms onto rugged tablet devices to give personnel the ability to access and communicate mission information, will be in the field by 2019.
Contracts:
Raytheon Co., Integrated Defense Systems, Tewksbury, Massachusetts, is being awarded an $111,328,702 cost-type and fixed-price contract for total ship activation and engineering services in support of the Zumwalt-Class Destroyer program. This contract will provide production, integration, activation, and testing on Zumwalt-Class ship mission systems and missions systems equipment. This contract includes options which, if exercised, would bring the cumulative value of the contract to $490,232,925. Work will be performed in Portsmouth, Rhode Island (31 percent); Tewksbury, Massachusetts (23 percent); San Diego, California (22 percent); Bath, Maine (15 percent); Marlboro, Massachusetts (3 percent);  Port Hueneme, California (1 percent); Wallops Island, Virginia (1 percent); Dulles, Virginia (1 percent); Fort Wayne, Indiana (1 percent); Nashua, New Hampshire (1 percent); and Fullerton, California (1 percent), and is expected to be completed by April 2021. Fiscal 2012, 2013, 2014, 2015, 2016, and 2017 shipbuilding and conversation (Navy); fiscal 2016 and 2017 research, development, test, and evaluation (Navy); and fiscal 2017 operations and maintenance (Navy) funding in the amount of $43,408,462 will obligated at time of award and $2,107,353 will expire at the end of the current fiscal year. This contract was not competitively procured in accordance with 10 US Code 2304(c)(1) – only one responsible source and no other supplies or services will satisfy agency requirements. The Naval Sea Systems Command, Washington, District of Columbia, is the contracting activity (N00024-17-C-5145).
URS Federal Services Inc., Germantown, Maryland, has been awarded a $65,000,000 firm-fixed-price and indefinite-delivery/indefinite-quantity contract for F-16 aircraft maintenance for the Taiwan Air Force. Work will be performed at Luke Air Force Base, Arizona, and is expected to be complete by July 31, 2023. This contract is 100 percent foreign military sales to Taiwan. This award is the result of a competitive acquisition with four offers received. The 338th Specialized Contracting Squadron, Joint Base San Antonio-Randolph, Texas, is the contracting activity (FA3002-17-D-0008).
PD Systems Inc., Alexandria, Virginia, was awarded a $30,134,374 fixed-price-incentive contract for the recapitalization of the deployable power generation and distribution systems prime power unit or MEP-PU-810 A and B. Bids were solicited via the Internet with five received. Work locations and funding will be determined with each order, with an estimated completion date of April 23, 2027. US Army Contracting Command, Fort Belvoir, Virginia, is the contracting activity (W909MY-17-D-0002).
Accenture Federal Services LLC, Arlington, Virginia, was awarded an $11,971,587 cost-plus-incentive-fee contract for general funds enterprise business systems – sensitive activities development. Bids were solicited via the Internet with one received. Work will be performed in Arlington, Virginia, with an estimated completion date of July 31, 2021. Fiscal 2016 and 2017 research, development, test and evaluation funds in the amount of $9,518,295 were obligated at the time of the award. US Army Contracting Command, Rock Island Arsenal, Illinois, is the contracting activity (W52P1J-17-C-0022).