CSM Hosts Night of Engineering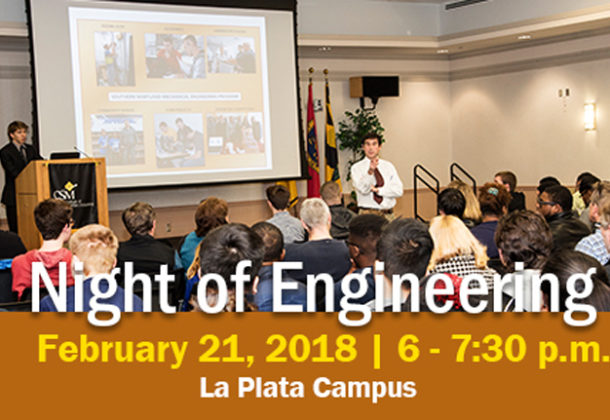 The Mathematics, Physics, and Engineering Division of the College of Southern Maryland is hosting a Night of Engineering on Feb. 21, 2018, and is receiving support from The Patuxent Partnership.
Everyone who comes to the Night of Engineering will be able to learn about CSM's Mechanical and Electrical Engineering partnership with University of Maryland College Park and Naval Air Warfare Center Aircraft Division, or NAWCAD, which is located in St. Mary's County on Patuxent River Naval Air Station.
The event will be held from 6 to 7:30 pm Wednesday, Feb. 21, 2018 in CSM's Center for Business and Industry, or BI, Building, inside the Chaney Enterprises Conference Room, 113.
CSM's partnership with UMD offers a seamless pathway to a bachelor's degree in Mechanical Engineering or Electrical Engineering. Students earn an Associate of Science Engineering Degree at CSM, then transfer as juniors to earn a Bachelor of Science Degree in Mechanical Engineering at UMD. Participating students can do an internship with the Naval Air Warfare Center Aircraft Division, a division of NAVAIR. This internship opportunity is a leg up for possible employment opportunity upon successful graduation and completion of all Pathway Program requirements.
Participating students do not have to travel to College Park to continue their classes. They can take all the classes in Southern Maryland at CSM and then at the Southern Maryland Higher Education Center in St. Mary's County to complete their junior and senior classes with UMD.
The event is free to attend, but registration is appreciated. To register, visit CSM's STEM website or contact Shadei Jones, CSM's pre-engineering coordinator, by email at sjones3@csmd.edu.
For more about the College of Southern Maryland, visit its Leader member page.
About The Patuxent Partnership
TPP fosters collaboration and the sharing of knowledge and expertise across a diverse network that includes government, industry, and academia. TPP also supports STEM education and workforce development within the local community including hosting programs of interest to NAVAIR, NAWCAD, and the broader DoD community.
To learn more about The Patuxent Partnership and its programs, visit its Leader member page.