CSM Celebrates Gottfried's Legacy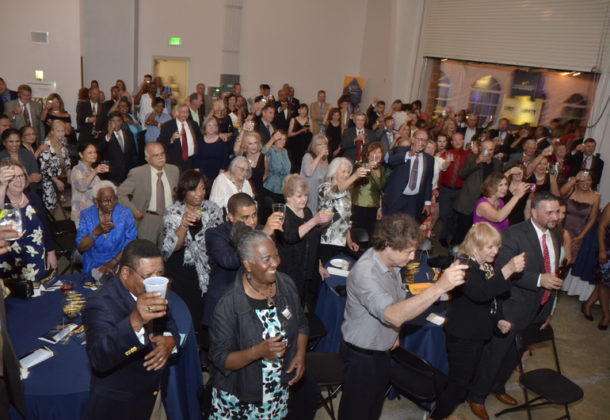 Participants at "Celebrating a Career, Building Futures" make a toast to CSM President Dr. Brad Gottfried's impact during his 11 years at the college.
College of Southern Maryland and nearly 300 supporters celebrated on June 3 the legacy of retiring President Dr. Brad Gottfried. His 11-year tenure was highlighted during "Celebrating a Career, Building Futures" at the Center for Trades and Energy Training on the newly dedicated CSM Regional Hughesville Campus, one of Gottfried's most recent visions realized.
"Dr. Gottfried … as we look back over the past 11 years, we realize the impact you have had on our students and our community. I hope this turnout demonstrates how much our community appreciates you and will miss you," said CSM Foundation Vice Chair Nancy Hempstead, who emceed the celebration.
CSM Board of Trustees Vice Chair Ted Harwood spoke for the CSM Foundation in expressing gratitude for Dr. Gottfried's transformation of the college's leadership and the relationships he built to continue a college that is affordable, accessible, and relevant to the community.
Dr. Gottfried's leadership in opening new college facilities was noted, because through his work the college expanded both community partnerships and college programs, as well as raised funds for scholarships and other college needs. The group then offered a toast to both Gottfried and his wife, Linda.
CSM Vice President of Advancement Michelle Goodwin said the celebration was about Dr. Gottfried's leadership, but also where that leadership will take the college into the future. "The foundation garnered 86 sponsors and shows of supports and raised funds through ticket and raffle sales — for a total of $111,250 — and we still have checks arriving and online donations coming in after the event," Ms. Goodwin said. The money will go to the new Gottfried Building Futures Scholarship, which supports workforce training students in the areas of business, construction and skilled trades, cybersecurity/IT, hospitality, health care, and transportation. These are skills that are essential to the local community, but the students who pursue workforce development programs do not usually have access to government grants.
"As a result, many citizens are denied an education because of the cost," Dr. Gottfried said. "The Gottfried Building Futures Scholarship will go a long way toward addressing this issue in a very positive way. I am especially grateful to our college partners who have provided assistance to these students in the past and who are contributing to this new scholarship fund." The money raised at the event also helps meet the foundation's $10 million IMPACT campaign goal, bringing the total to $8.4 million.
This event was made possible by the overwhelming support from the community and generous sponsors.
To see a video honoring Dr. Gottfried's legacy, visit the college's YouTube channel.
For more photos and a list of sponsors, visit the college's newsroom.
For information on giving opportunities for this scholarship fund or others at the CSM Foundation, visit the CSM Foundation's website or call 301-934-7649.
For those wishing to offer farewell wishes for Gottfried on his retirement, visit CSM's website.
Friends of the college are invited to a farewell reception for President Gottfried set from 5 to 7 pm June 29 at the La Plata Campus courtyard. There will be music and a cash bar.
For more about the College of Southern Maryland, visit its Leader member page.