CSM Career Fair Set for April 10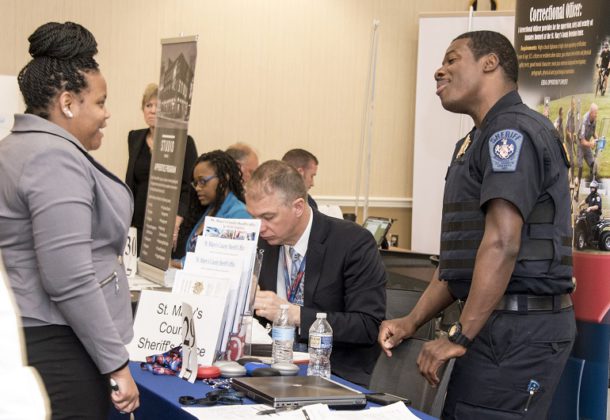 Employer Registration Open Until March 27
Searching for the perfect job applicant is tough for employers, especially when many job searches are done electronically. A job and career fair, however, gives employers the chance to meet job-seekers in person.
With this in mind, College of Southern Maryland is helping both employers and job-seekers to cut through the mass of electronic communication of modern job searches. The college's 2018 Tri-County Job and Career Fair is set from 10 am to 2 pm April 10, 2018, at the CSM's La Plata Campus, providing a valuable opportunity to both job seekers and employers.
Naval Research Laboratory HR Specialist Tara Bright has been at five tri-county job fairs at the college, presenting on federal employment at three events. NRL has hired employees from those fairs, Ms. Bright said.
"It is always great to meet with potential candidates face to face to see more of their personality," Ms. Bright said. She said a resume only tells employers so much about the candidate, while a job fair is a way to see the person's verbal communications skills and see a little bit into their personality.
Southern Maryland Electric Cooperative has also participated in the job fair for at least the last five years, according to Human Resources Director Cindy Rauner. SMECO presents at the job and career fair because it is an opportunity to find employees and because SMECO sees the fair as a community relations opportunity, Ms. Rauner said.
"We, too, are a community organization and want to try to be visible to our members and others that might have an interest in working here at SMECO," Ms. Rauner said. "Sometimes we have open positions at the entry level and sometimes we have more degree-specific open positions. Either way we want to support CSM and the community by participating."
Participation like that pays off. "Out of the community job fairs we attend, CSM's is one of the best attended by applicants seeking employment," Rauner said. "I feel it provides a great resource to the students, community and local employers."
Employers can register as presenters until March 27. Cost is to present as an employers is $175, and the registration form and payment must be received by March 27 to guarantee a spot.
For more information, call 301-934-7569. To register, visit CSM's website.
For more about the College of Southern Maryland, visit its Leader member page.