CSM Brick Ceremony Honors Community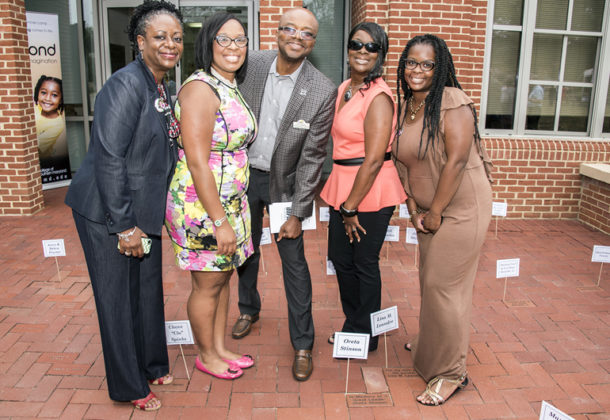 College of Southern Maryland Foundation Director Alland "Al" Leandre, center, purchased an honorary brick to commemorate his mentor Oreta Stinson. From left are Stinson's sister, Lola Scott; Stinson's daughter, Sydney Powell; Leandre; Stinson's sister, Thomasina Hazel; and Stinson's niece, Kenyetta Hazel.
A new set of bricks have been set into the walkways of the College of Southern Maryland La Plata campus, each engraved with the names of people who are important to the community. On Sept. 16, 2016 a ceremony was held to honor those being recognized through the placement of the bricks.
The ceremony was opened by CSM President Dr. Brad Gottfried at the James C. Mitchell Center for Health Technology (HT Building). "We are here to acknowledge and honor the individuals within the community who have made a difference in the lives of so many," Dr. Gottfried said. "The CSM Brick Program provides a way to memorialize and pay tribute to loved ones and members of the community who are our true champions."
Members of the community purchase bricks for a variety of reasons, according to CSM Foundation Chair Rané Franklin, who explained they may name a loved one who has passed, creating a tribute to the impact the person had on Southern Maryland, or be purchased in honor of someone in the community who is still working to make the region a better place.
Ms. Franklin said the ceremony recognizes not just the people whose names are inscribed on the bricks newly placed at the La Plata Campus, but also those who purchased the bricks and believe in the college's mission of transforming lives.
"It starts with a brick, a scholarship, a room naming or an event sponsorship," Ms. Franklin said. "That generosity and investment today, enriches and impacts our tomorrows." She then turned the audience's attention back to Dr. Gottfried, who has announced his plans to retire as CSM's president next year, and his wife, Linda.
"During his 10-plus years as college president, he and Linda have purchased bricks for others. They have established three scholarship funds and, most recently, they have pledged $110,000 toward our current $10-million 'Make An Impact Campaign'," Ms. Franklin said. "Dr. Gottfried and Linda, you have established quite a legacy."
Bricks that were laid in memory include the following names:
Howard Franklin Alger, Richard Lee Bolton, John Calhoon, Charles R. Chapman Jr., Jim and Fern Cleary and Paula Cleary Locher, Terri Ann Edwards, Bernice Gottfried, David Michael Krankowski, Reuben Frederick Lilly Sr., Esther Luyster, Ernest "Ernie" A. Schlaefli, Mary I. Shasho, Ann Gore Spencer, Cloyce "Clo" Spinks, Oreta Stinson and Walter "Duke" Ward.
Bricks that were laid in honor of someone include the following names:
Patrick L. Allen; Aubel Family of Richard, Stacie, Brandon and Jason; Professor Rex Bishop; Paige Blankenship; Barbara Bowling, Frederic J. Moore and George M. Bowling IV; Buckler Family; Teirra M. Butler; Lyman R. Comey and Laura Sue Comey; Linda Sullivan Cox; James F. Di Misa; Professor James Fehr; Charles and Sylvia Ferguson; Professor Bruce Fried; Professor Tom Gorecki; Carolyn and Bill Graham; Bob and Jann Healy; Help Desk; David, Laura and Kathryn Hupp; IMT Staff; Frank and Susan Kruszka; Teresa M. Kruszka; Lisa M. Leandre; The Library; Steven and Brenda Lowe; Joan Middleton; Professor Bill Morton; Deborah Sullivan Payne; Michael W. Payne; Shelby L. Payne; Proctor Family, Avery and Debra; Zauriel D. Proctor; Quattlebaum Family and Thomas Quattlebaum; Thomas Carl and Iris Hope Ronaldi, Jr.; Joan Shelley; Shymansky Lawman Family; Southern Maryland Studies Center; Pamela S. Starkey; Marshall R. Sullivan Jr.; John, Anita and Erik Warnes; and John and Roberta Wearmouth.
The bricks are purchased for $200 each from the CSM Foundation, and the funds are directed to the college's general scholarship fund. For information on the brick program, visit impact.csmd.edu or contact the Development Department at 301-934-7604.
For more about the College of Southern Maryland, visit their Leader member page.