CRA Expands Sotterley Story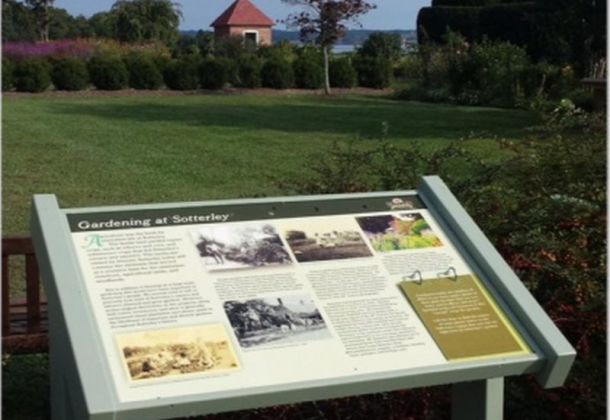 Posted for
Communication Research Associates
New outdoor information panels and a new visitor brochure at Historic Sotterley in Hollywood, MD, showcase the work of Sheila Gibbons Hiebert of Communication Research Associates, Inc., Colton's Point, MD.
The 16 panels installed on site engage, inform, and direct viewers through Sotterley's rich history, telling the stories of the people who lived and worked at the manor and farm across more than three centuries. Panels combine text and images bringing to life experiences of owners, servants, workers, and slaves. Many panels are interactive, designed especially for children; a question is posed and part of the panel moves or changes to reveal the answer. Some panels  feature textured objects that help visitors learn about crops, textiles, materials, and equipment used during Sotterley's centuries as a working farm.
"The new site exhibits have enhanced the Sotterley experience and we wanted to give the public more opportunities to come and be re-introduced to the site," said Nancy Easterling, Executive Director of Historic Sotterley, Inc.
Ms. Gibbons Hiebert researched the historical content and wrote the text that appears on the panels. She worked closely with Sotterley Education Director Jeanne Pirtle, an impeccable source of Sotterley history, who chose the images for the panels, and with St. Mary's College Professor Emerita Merideth Taylor, chair of Sotterley's Interpretation Committee. The signs were fabricated by exhibits specialist Dennis Kund. The signage project was funded in part by a grant from the Maryland Heritage Areas Authority.
Communication Research Associates, Ms. Gibbons Hiebert's firm, also created the text for the new brochure. Ms. Gibbons Hiebert is an experienced writer, journalist and communication consultant. She is a veteran of numerous communication campaigns and projects for corporations and non-profits.  You can read more about her work here.