College Welcomes Donations to 'Make an Impact'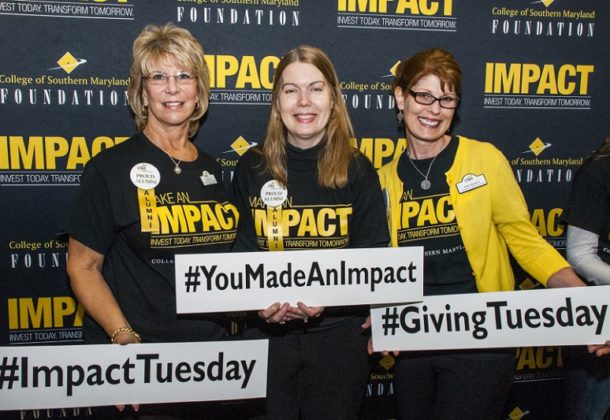 CSM's Foundation Director Linda Cox with her niece Lisa Case and CSM Payroll Specialist Anne Buckler celebrate their participation in the international day of generosity – Giving Tuesday. Giving Tuesday follows Black Friday, Small Business Saturday and Cyber Monday and focuses on philanthropy and giving to others after those days of frenzied consumerism. The 24-hour online giving event is scheduled this year for Tuesday, Nov. 27.
Anticipation is starting to build as the College of Southern Maryland Foundation gears up for #GivingTuesday, the annual international day of online giving that follows Black Friday, Small Business Saturday, and Cyber Monday. The 24-hour event scheduled for Tuesday, Nov. 27, focuses on the giving season by inspiring people to collaborate and give to their communities following their post-Thanksgiving holiday spending sprees.
"Giving Tuesday reminds us all to keep our perspective about the meaning of giving," said CSM Foundation Director Linda Cox. "The holiday season can be frantic and Giving Tuesday gives us pause to slow down, reflect and make meaningful gifts of every size to help change lives here at home in Southern Maryland."
"Each year on Giving Tuesday, I keep our families' promise to help the students who are our future," she said, explaining that she and her husband Donnie established the Cox Family Memorial Endowed Scholarship at CSM in 2002 in memory of his mom Marguerite. For more than a decade, the Cox Family Memorial Endowed Scholarship has supported full- and part-time CSM students, as well as continuing education students.
However, since 2002, Donnie, his brother, sister and father have all passed away which makes #GivingTuesday that much more special, and important to Ms. Cox.
"On November 27, I will replenish the endowment in the names of so many who are so dear to me," Ms. Cox shared. "Because every little bit helps – for some learners in very big ways, and for some, in small ways – but it all helps."
In addition, many generous donors throughout the community have already pledged to match donations during #GivingTuesday, dollar for dollar.
When the online event begins Nov. 27, givers can choose one of the designated matching funds to double their donation. Ms. Cox is among those offering to match the first $1,000 donated to her family's memorial scholarship.
Others include:
Southern Maryland Women's League Scholarship, established in 2009 in support of students who are single parents or children of a single-parent household. The first $500 will be matched.
Hempstead Family Scholarship, established in 2017 by Nancy Hempstead in support of Calvert County residents who graduated from a Calvert
County Public High School. The first $1,000 will be matched.
Nyce Annual Scholarship, established in 2014 by Valerie Nyce in support of students who reside in Calvert, Charles, and St. Mary's counties. The first $1,500 will be matched.
Zonta Annual Scholarship, established in 2012 in support of students who reside in Southern Maryland and want to improve the status of women. The first $2,000 will be matched.
Peter Cangelosi Memorial Scholarship, established in 2014 by Laurie and Raymond Cangelosi in memory of their son. This award supports students majoring in a medical field. The first $3,000 will be matched.
Mary I. Shasho Memorial Endowed Scholarship, established in 2016 by Harry A. Shasho in memory of his wife. This award supports Criminal Justice majors who reside in Southern Maryland. The first $10,000 will be matched.
"Mary Shasho was the ultimate volunteer," Mr. Shasho recently said of his wife. "She was proudest of her work with the Charles County Sheriff's Office and starting the Explorer Program which has since turned into the [Charles County Sheriff's Office's] cadet program. I am sure Mary would be happy to see more people follow into law enforcement and CSM is a great avenue to help young people attain a degree."
Last year, during the 24-hour online event, 370 donors gave $123,124 in the spirit of #GivingTuesday. The college surpassed its 2017 its goal when donations ranged from just a few dollars to the Salta family's $15,000 matching donation, which added up to more than a 70 percent increase over the prior year's giving. This donation from the Salta family established the Salta Family and DirectMail.com Scholarship to support students who are student athletes or Marketing/Business majors. The Salta family has generously agreed to again match all donations made to the CSM Foundation on #GivingTuesday, up to $15,000.
This year, along with the generosity shown to scholarships, the CSM Foundation hopes to raise money for the Student Success Fund, which is an unrestricted fund that will support the student's overall success at CSM.
"Monies in the Student Success Fund will help us with needed and necessary amenities," Ms. Cox explained, citing the need for additional mental health services, job search assistance, campus-wide technology upgrades, athletic sports gear and transportation for CSM student athletes.
"For the past six years, the remarkable giving spirit of the Southern Maryland community has shown bright," continued Ms. Cox. "We hope to harness the power of generosity for all of our students again this year."
For more information about CSM's #GivingTuesday event, visit the CSM Foundation website.
For more about the College of Southern Maryland, visit its Leader member page.