Cherry Trees Bloom Ahead of April 9 Festival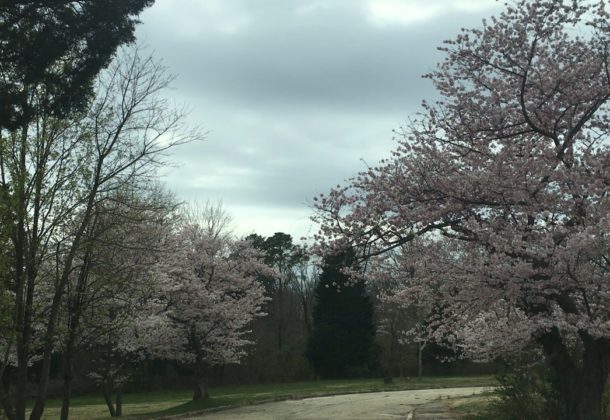 The blooms of the Yoshino cherry trees are temporal, a trait bestowing a not inconsiderable amount of the species' cachet. The single-flower blooms, light pink, last perhaps a week, not even that if the erratic, early weather of spring does not permit. Then, after that splash of effervescence, the relatively small hardwoods are swallowed into the growing green leafing of spring proper.
Despite best efforts at prognostication, the inaugural ArtsPark Cherry Blossom Festival, opening at 11 am April 9, will likely miss the best 2017 display of the cherry trees. There will still be a full complement of activities and free musical performances beginning at 11 am until 4 pm when the winner of the Lexington Park Alive! Mural Competition winner will be announced at the Three Notch Theatre.
The spate of early spring weather in February accelerated this year's blooms of the Yoshino cherry trees in the heart of Lexington Park, Maryland. They hit their peak in late March. These cherry trees are the same species as those given by the Japanese to the US in 1912. These were planted in the 1960s along the roads of Lexington Manor, a subdivision of rental homes built two decades before by the Navy as WWII fueled the population boon created by the new Navy base.
Lexington Park legend, handed down from aviator fathers and grandfathers who claim they were there, says the trees were dispersed among the military bases and bore a relationship to the cherry trees from Japan planted around the Washington, DC, Tidal Basin. Wherever they came from, they were planted in Lexington Manor during the 1960s, the decade the Navy sold the more than 300 rental units to a private management company. The cherry trees remained through the dilapidation of the neighborhood. They remain today, nearly 15 years since the neighborhood was razed.
Today most of the land is owned by county government and overseen by the parks department. Most of the roads are closed to vehicles. The southern section of the property is an 18-basket disc golf course holding annual tournaments typically in early April in an effort to capture the cherry blossoms in bloom. Their 2017 tournament will capture the blooms you see here:
For more about Lexington Park, visit the St. Mary's County Community Development Corporation's Leader member page.
46940 South Shangri-La Drive, Suite 7; Lexington Park, MD 20653
301-863-7700