Check Out AMG Art Classes for Kids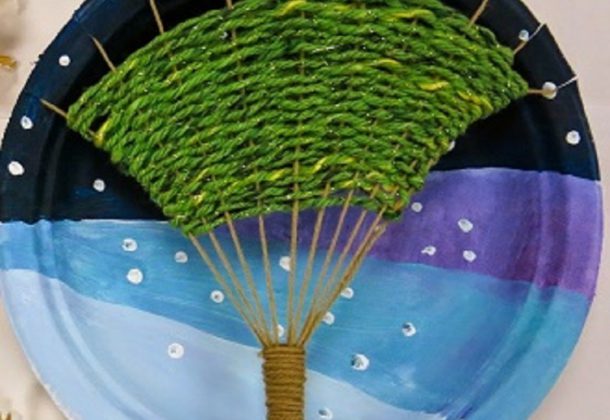 Looking for art classes for kids? Annmarie Sculpture Garden and Art Center has the perfect classes for children in March. The adults aren't the only ones who get to have fun.
Children in grades three through six can visit Annmarie Garden for the Weaving Winter Trees Workshop on Saturday, March 11, from 10 am to noon. Say goodbye to winter with an art project. Kids will learn the fundamentals of weaving with instructor Dollie Karolewski. They will paint a winter scene and then weave a fiber tree into it.
Member cost will be $15; non-members pay $20. All supplies are included. Register here.
The same age group is invited for the Spring Batiks Workshops on Saturday, March 18, from 10 am to 1 pm. In this class, they will learn to create a vibrant springtime batik artwork on fabric with Ms. Karolewski. Using melted crayons and fabric paints, each child will come away with his or her own unique 12-by-12-inch artwork.
Call 410-326-4640 or visit Annmarie's website to register or get more details on the classes.
Children also can explore salamanders. Annmarie Garden has scheduled an Eco-Exploration Day event from 10 to 11 am on Friday, March 31, 2017.
Families are invited to come along on an eco-exploration. Staff naturalist Hester Burch will lead youngsters and their caregivers on a hands-on exploration of the natural world of Annmarie Garden.
Reservations are not required. Admission is free for Annmarie Garden members; $5 for adults; $4 for military; $3 for youth; free for children 5 and younger.  For additional information, call 410-326-4640.
The natural world that surrounds Annmarie Garden is full of amazing things to see and discover. Eco-Explorations are held every month at AMG, and Ms. Burch has created several programs that teach children about nature while they have fun.
The programs and projects are designed for children in the elementary school ages, but siblings and families are welcome to participate, as well. There is no requirement to register, but if you have a large group coming, be sure to let Ms. Burch know so she can make sure every child is accommodated.
About Annmarie Garden
An affiliate of the Smithsonian Institution, Annmarie Garden is located in scenic Solomons, MD. The sculpture garden features a walking path that meanders through the forest past permanent and loaned sculpture, including more than 35 works of art on loan from the Smithsonian Institution and the National Gallery of Art. Annmarie Garden also presents a variety of award-winning special events, gallery shows, and engaging public art programs.
Annmarie Garden's Studio School offers creative classes for all ages and abilities taught by a talented faculty. Annmarie Garden is conveniently located just off Route 2-4, on Dowell Road; open 9 am to 5 pm daily; the Murray Arts Building and Gift Shop are open 10 am to 5 pm daily.
Follow Annmarie Garden Sculpture Garden and Art Center on Facebook to find out the topic for each Eco-Exploration Day.
For more about Annmarie Sculpture Garden and Art Center, visit its Leader member page.