Can Navy Maintain Superiority at Sea?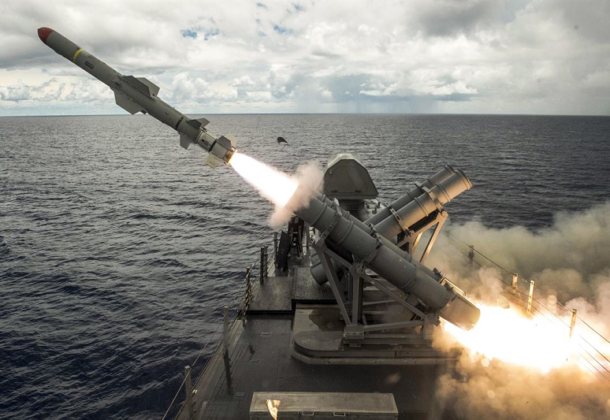 Morning Coffee is a robust blend of links to news around the internet concerning the Naval Air Station Patuxent River

economic community. The opinions expressed here do not reflect opinions of the Leader's owners or staff.
Adm. John Richardson, chief of naval operations, says the US Navy needs to rediscover its momentum and "get a fire in our gut," reports The Associated Press. Richardson was speaking on how the service can maintain superiority at sea at the Current Strategy Forum at the US Naval War College. He doesn't want the Navy's competitive advantage to narrow to the point where anyone else thinks they have a chance of winning.
Boeing subsidiary Insitu just inked a $117 million contract to provide small unmanned aircraft systems services across the fleet of US Coast Guard national security cutters. USNI reports that the Scan Eagle contract marks the end of what had become a multi-year testing process for the Coast Guard to find an unmanned aircraft to assist with its ongoing mission to stop drug smuggling and human trafficking.
The Marine Corps' rotations to Norway could more than double now that the Norwegian government has authorized up to 700 Marines to train at two locations in the country, reports Task and Purpose. Since January 2017, the corps has sent about 300 Marines on six-month training rotations to Norway, during which they learned from Norwegian troops how to live, fight, and survive in the arctic cold.
The Donald Trump-Kim Jong Un summit in Singapore is over, reports Vox. Did the US and North Korea each get what they wanted?  To try to answer these questions, here is a list of 4 winners and 4 losers from the meeting. BBC reports the Pentagon has reassured allies of its "ironclad" security commitments, after the US canceled its Korean military exercises. The proposal to end the exercises have caught Allies by surprise, reports Defense News. The meeting with the North Korean leader bears some similarity to a previous proposal by China to end the standoff on the Korean Peninsula known as "freeze-for-freeze." However, there was no indication that the North Koreans have agreed to such a freeze at the summit.
Moderate and conservative Republicans in the House reached a deal late Tuesday to vote on two immigration measures next week, reports NBC News, delaying for now the discharge petition effort by moderates to force immigration floor votes on a broader range of proposals. Key House Republicans trying to forge an immigration deal have agreed to work on a legislative fix to end family separation for asylum seekers, among other issues facing immigrants, reports PBS.
Federal judge Richard Leon approved the $85 billion merger between AT&T and Time Warner, reports Business Insider. The deal, nearly two years in the making, netted a massive and potentially legacy-sealing win for AT&T chief executive Randall Stephenson. Megamergers in the health care business gets a lift from the decision.
A group of American scientists will perform an analysis of US and allied electronic warfare capabilities and recommend how the US can improve this crucial element of warfare, reports Breaking Defense, if the Senate Armed Services Committee gets it way.
Contracts:
American International Contractors Inc., Arlington, Virginia (W912ER-18-D-0004); Black and Veatch, Arlington, Virginia (W912ER-18-D-0005); and Contrack Watts International, McLean, Virginia (W912ER-18-D-0006), will compete for each order of the $50,000,000 firm-fixed-price contract for design-build, construction, or site adapt construction or renovations and repairs projects. Bids were solicited via the Internet with 11 received. Work locations and funding will be determined with each order, with an estimated completion date of June 12, 2023. US Army Corps of Engineers, Winchester, Virginia, is the contracting activity.
Truestone LLC, Herndon, Virginia, was awarded a non-competitive firm-fixed-price follow-on contract for the continued operation and maintenance of a multiyear capital lease for a 25-year indefeasible right of use for a dedicated fiber pair between Guam and Kwajalein Atoll. The face value of this action is $23,607,174 funded by fiscal 2018 research, development, test and evaluation appropriations. Primary performance will be on land and in waters between Kwajalein Atoll and Guam. The period of performance is 10 years from June 11, 2018, through June 10, 2028. The Defense Information Technology Contracting Organization – Pearl Harbor, Hawaii, is the contracting activity (HC1013‐07‐H‐0617).
Q.E.D. Systems Inc., Virginia Beach, Virginia, is awarded a $15,115,583 cost-plus-incentive fee, cost-plus-fixed fee, cost-only contract for the execution planning efforts to support West Coast, East Coast, and outside the contiguous US maintenance and sustainment execution contracts for Littoral Combat Ship (LCS) class ships. The contract also allows for the procurement of long lead time material in support of the LCS class ships' maintenance and sustainment availabilities. This contract includes options which, if exercised, would bring the cumulative value of this contract to $237,602,950. Work will be performed in San Diego, California (80 percent); and Virginia Beach, Virginia (20 percent), and is expected to be completed by June 2019. Fiscal 2018 operations and maintenance (Navy) funding in the amount of $25,000 will be obligated at time of award and will expire at the end of the current fiscal year. This contract was competitively procured via the Federal Business Opportunities website, with one offer received. The Naval Sea Systems Command, Washington, District of Columbia, is the contracting activity (N00024-18-C-4312).