Calvert Schools Rewarded for Saving Power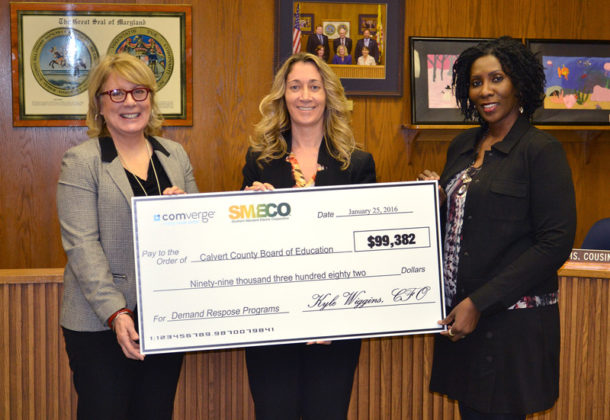 Southern Maryland Electric Cooperative rewards its customer-members for finding ways to consume less power. Most recently, SMECO and energy management company Comverge/CPower returned bill credits and rebates that totaled nearly $100,000 to Calvert County Public Schools because the school system helped the cooperative reduce peak energy use in 2016.
When the weather gets very hot, power consumption spikes across the grid. Calvert County schools have been participating in the Demand Response program with SMECO for six years, and is able to reduce the power load in 21 of its buildings on those worst days.
All over the SMECO service area, the cooperative asks customers to cut back their usage in any way possible. Large commercial accounts can turn off equipment, run their large equipment less often, or adjust the temperature on their air-conditioning systems. The type of compliance depends on the type of facility. When they reduce their load, the customers receive credits on their bills based on how much they reduced.
In February, representatives from SMECO and Comverge/CPower noted the school system's participation by giving a symbolic check for $99,382 to the Calvert County Board of Education. The amount is based on the school system's load reduction in 2016.
"Participating in Demand Response has opened the doors to opportunities we otherwise wouldn't have access to. As a result of this partnership with Comverge and SMECO, Calvert County Public Schools continue to reduce our energy consumption, saving our school system valuable dollars," said Sheila Stevens, energy and environmental specialist for the school system.
Eighty years ago, when rural areas needed electricity, cooperatives were created. Visionary men and women helped to form the Southern Maryland Electric Cooperative. SMECO now provides electric service to 160,000 customers in Charles, St. Mary's, and southern Prince George's counties, and all but the northeast portion of Calvert County.
To learn more about SMECO, please visit its Leader Member Page.