At Three Notch, A Holiday Whodunit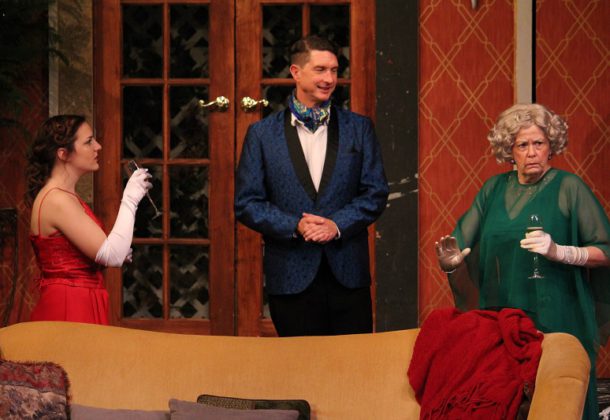 'Holmes for the Holidays' Whodunit Now Playing at Newtowne Players
Hold onto your deerstalker hats — a holiday whodunit has hit the Newtowne Players' stage. Penned by Broadway funnyman Ken Ludwig, "Holmes for the Holidays or The Game's Afoot" is a festive romp guaranteed to tingle your spine and leave you in stitches.
The curtain rises on a play-within-a-play whodunit as William Gillette (played by Kerry Jones) assumes the role of super-sleuth Sherlock Holmes for a climactic showdown with his foe, Moriarty. As the actors come out for their curtain call, Gillette spies an armed man in the audience and is struck by a bullet as the gun goes off, setting the drama in motion with a bang!
A few weeks later Gillette — seemingly unshaken by his brush with death — invites his close friends and fellow thespians to his opulent upstate Connecticut castle for a holiday party. Among the guests are young ingénue Aggie (Maddie Oosterink), her fiancé Simon (Connor Heveron), Madge and Felix Geisel – the self-proclaimed "Astaire and Rodgers/Nick and Nora/Sacco and Vanzetti" of the group (Joie Samuelson and Michael Sokoloff) — and Martha, Gillette's doting mother (played with precision comedic timing courtesy of Robin Finnacom).
Arriving fashionably late is Daria Chase (Emily Funderburk), a famous — or perhaps infamous — theater critic who enters just in time to stir up a little drama among the partygoers. But Daria barely makes it through dinner and a séance before she's knifed in the back — literally.
With a dead body to hide, a murderer on the loose and the sudden appearance of a police inspector with a flair for Shakespearean quotations (Beth Sanford), the stage is set for comedy as Gillette and his friends try to uncover the killer.
"The play has a few twists and turns. There are surprises right up until the final curtain," says cast member Michael Sokoloff, adding that the show's humor made for an enjoyable rehearsal process. "The show is hysterical.  If anything got in the way of us rehearsing, it was usually that we were just cracking up.  From the day that we started blocking to our final dress rehearsal, it was just funny!"
Under the steady hand of veteran Newtowne director Jennifer Carnahan, the play hits all the comedic high notes. But for Carnahan, the rehearsal process didn't come without a hint of the bittersweet. An active volunteer with Newtowne Players for over six years both on and offstage as actor, director, producer and artistic director, "Holmes" marks Carnahan's final production with the theater as she prepares to relocate to southern California.
Carnahan looks back on her time at Newtowne Players fondly, recalling how she first found Newtowne Players shortly after moving to the area.
"One of the first things I searched for when I moved to Southern Maryland was a theater," Ms. Carnahan says. "I was thrilled to find NTP just a few miles from where I lived." Ms. Carnahan's first role on the Newtowne stage was the lead in "The Man Who Came to Dinner," and from there she stayed involved with the theater in any and every way she could.
"My time here has given me friends for a lifetime," she says.
"The best part of the rehearsal process was working with Jenny and the rest of the cast and crew," adds cast member Ms. Finnacom. "Jenny is a phenomenal director. Her talent will be terribly missed by the Newtowne Players when she heads to California for her next adventure."
Helping Carnahan bring her vision for the show to life are assistant director Chris Joyce, stage manager Kate Donnelly and producer Jeff Maher. The 1930s-inspired costumes sparkle courtesy of designer Joanne Fuesel and P. Wade Thompson's set design brings Gillette castle fully to life — hidden doors and all. Also lending a hand to the production are Dawn Weber (set dressing), Ginger Serafin and Diane Trautman (props), and Jonathan Berry (lighting design).
The show runs Thursdays through Saturdays at 8 pm and Sundays at 3:30 pm through Dec. 18 at the Three Notch Theater, 21744 South Coral Drive Lexington Park, MD 20653. Tickets may be purchased online here. Discounts are available for seniors, students, military, and children younger than 12.
The Newtowne Players are proud to partner with the Southern Maryland Food Bank this holiday season to collect donations of nonperishable food items before each show. Audience members that bring food for donation will receive one raffle ticket to win a basket of holiday goodies for each item donated.
Lexington Park news is SPONSORED BY