Annual ArtsFest: Making So. Md. Beautiful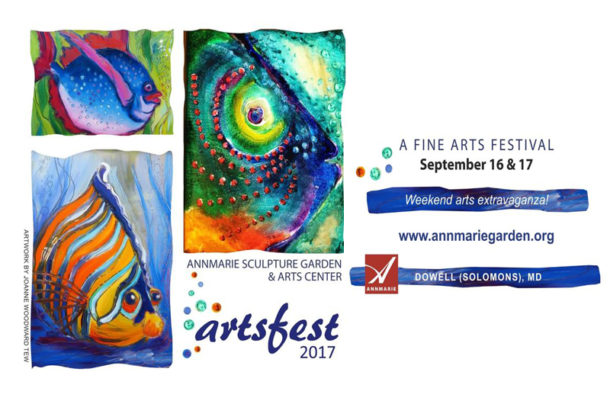 Come and see what makes Southern Maryland beautiful at Annmarie Sculpture Garden and Art Center's 24th annual Artsfest, set for Sept. 16 and 17, 2017, from 10 am to 5 pm.
Admission is free for Annmarie members; $6 for non-members; free for kids 11 and younger. No pets are allowed at this event.
More than 165 artists will have booths open at the annual Artsfest and there will be 30 performers on two stages in the park. Kids can enjoy the Discovery Tent, make their own art in the Studio School, or play in the Zany Zone. Adults can enjoy delicious food, wine and beer, and plenty more.
See street performers like stilt walkers, mimes, and living statues. Check out balloon artists, bubbles artists, and strolling artists, peppered throughout the festival grounds.
The annual Artsfest is a wonderful fall weekend of great shopping and art-themed activities at the beautiful Annmarie Garden. Get a head start on unique gifts for Christmas or simply find new pieces for your own home.
Artsfest is sponsored by Maryland State Arts Council, Dominion Energy, BuiltRite Homes, Jane and Walter Grove, Bozick  Distributors, Arts Council of Calvert County, Quality Built Homes Inc., Comcast, SMECO, Jan Kleponis @ O'Brien Realty, Just Tech, Gene and Carolyn McHugh, Gail Siegel-O'Brien Realty, AH Hatcher, The Greenery Landscaping Center, Roy Rogers, County First Bank, Lexington Park Dentistry, Jacqueline Morgan Day Spa, Edward Sanders Insurance, Asbury Solomons, Calvert Marina, Katie and Tom Watts, Community Bank of the Chesapeake, Jetmore Insurance, PNC Bank, Sabre Systems Inc.Holiday Inn Solomons, Drs. Richard & Jean Fleming, Washburn's Boat Yard, Alice's Table-Ashley Morgan, Evelyn and Vince Hungerford, Calvert Internal Medicine Group, Tommy Higgins and Lee Woodfin, Top Hat Party, Garner & Duff Flower Shop, Papa John's Pizza, Calvert Memorial Hospital, Chesapeake Golf Course, Boy Scout Troop 427, Patuxent High School NJROTC, and Southern Maryland Newspapers.
About Annmarie Garden
An affiliate of the Smithsonian Institution, Annmarie Garden is located in scenic Solomons, Maryland, on the Chesapeake Bay. The sculpture garden features a walking path that meanders through the forest past permanent and loaned sculpture, including more than 35 works of art on loan from the Smithsonian Institution and the National Gallery of Art. Annmarie Garden also presents a variety of award-winning special events, gallery shows, and engaging public art programs. Annmarie Garden's Studio School offers creative classes for all ages and abilities taught by a talented faculty. Annmarie Garden is located just off Route 2-4, on Dowell Road.
Annmarie Garden is open from 9 am to 5 pm daily; and the Murray Arts Building and Gift Shop are open from 10 am to 5 pm daily.
To learn more about Annmarie Garden, visit its Leader member page.