7th Fleet Boosts Stealth Attack Options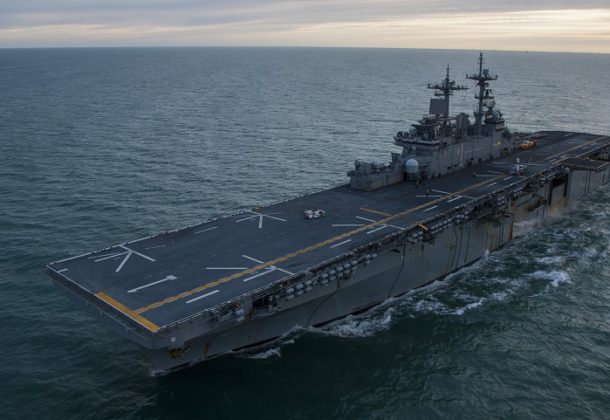 Morning Coffee is a robust blend of links to news around the Internet concerning the Naval Air Station Patuxent River

economic community. The opinions expressed here do not reflect opinions of the Leader's owners or staff.
The US boosted its stealth attack options in the Pacific over the weekend when the amphibious assault ship USS Wasp moved into the 7th Fleet area of operations, CNN reports. The Wasp was upgraded to deploy new Marine Corps F-35B fighter jets. The ability to take off from the Wasp rather than an airfield brings a new dimension, said Carl Schuster, a former director of operations at the US Pacific Command's Joint Intelligence Center.
A Navy plane that crashed in the Philippine Sea in November, killing three sailors, has been located in the Pacific Ocean, reports Fox News. The C-2A Greyhound, which was carrying 11 sailors from Japan to the USS Ronald Reagan before crashing Nov. 22, now rests at a depth of about 18,500 feet, the Japan-based 7th Fleet said Saturday.
John Young, NASA's longest-serving astronaut, who walked on the moon and flew on the first Gemini and space shuttle missions, has died, reports Space.com. Mr. Young graduated from the US Navy Test Pilot School in 1959 and served at the Naval Air Test Center at NAS Pax River, where he evaluated Crusader and Phantom fighter weapons systems.
A December 2017 report by cybersecurity company Agari says nearly half of federal agency email domains have adopted policies to collect data on unauthorized emails, a move mandated by the Department of Homeland Security, reports Fifth Domain. The policies don't block malicious emails or prevent employees from receiving phishing emails, but instead allow email owners to receive reports on unauthorized messages sent through their domain.
John Rood has been confirmed as undersecretary of defense for policy, reports Defense News. Rood, who most recently was vice president for intentional sales at Lockheed Martin, now fills a key vacancy in DefSec James Mattis' team.
The White House has announced nominations for two key defense acquisition positions for the Office of the Secretary of Defense and the Air Force, reports Defense Systems. Kevin Fahey, who formerly led the Army's Acquisition, Logistics, and Technology's systems engineering and integration, will become the assistant defense secretary for acquisition. William Roper, current director for the defense secretary's Strategic Capabilities Office, will be the Air Force's assistant secretary of acquisition.
Some legislators think the Air Force is falling behind foreign space programs because it subordinates space to traditional manned aircraft. For that reason, reports Breaking Defense, Congress is likely to override the Air Force's objections this year and carve out some kind of Space Corps.
A aircraft known for its experimental winter flights in Canada, the "Chilly Willy," will now take up residence at Wright-Patterson Air Force Base in Ohio for research purposes after arriving from NAS Pax River, Kaplan Herald reports. Aerospace researchers will use the MV-22 Osprey for ergonomic and musculoskeletal studies on crew members.
North and South Korea will sit down for their first formal talks in more than two years Tuesday to find ways to cooperate on the Winter Olympics in Pyeongchang and to improve relations between the two countries, reports Associated Press. While a positive sign after last year's threats of nuclear war, the Koreas have a long history of failing to move past their deep animosity, the report states.
Trump administration officials unveiled new sanctions against five Iranian companies late last week, Washington Examiner reports, as the White House continued to support protestors who have spent more than a week staging demonstrations against the Iranian government.
The US decision to suspend security assistance to Pakistan could have serious consequences for the American-led fight in Afghanistan, and potentially further strengthen ties between Islamabad and China, reports Defense News.
VA employee firings jumped in the second half of 2017 after new accountability legislation was signed into law last summer, reports Military Times, results that administration officials insist show a renewed commitment to cleaning up the agency. 
Contracts:
Northrop Grumman Systems Corp., Aerospace Systems, Melbourne, Florida, is being awarded $11,746,770 for firm-fixed-price delivery order N0001918F1651 placed against basic ordering agreement N00019-15-G-0026. This order provides for the procurement of Advanced Radar Processor (ARP) hardware sets for the E-2D to support the ARP operational test phase and counter electronic attack development test phase between 2019 and 2020. Work will be performed in Liverpool, New York (85 percent); Melbourne, Florida (13 percent); and Patuxent River, Maryland (2 percent), and is expected to be completed in November 2019. Fiscal 2017 research, development, test and evaluation (Navy) funds in the amount of $11,746,770 are being obligated on this award, all of which will expire at the end of the current fiscal year. The Naval Air Systems Command, Patuxent River, Maryland, is the contracting activity.
Open SAN Consulting LLC, doing business as OSC Edge, Atlanta, Georgia, is being awarded a $44,290,359 an indefinite-delivery/indefinite-quantity, firm-fixed-price contract for the provision of information technology services to manage the National Defense University (NDU) enterprise network, including future innovation of the information technology role, to support NDU users and students. The contract will include a 60-month ordering period. Work will be performed in Washington, District of Columbia (75 percent); Norfolk, Virginia (20 percent); and Atlanta, Georgia (5 percent), and the ordering period of the contract is expected to be completed by January 2023. Fiscal 2018 operations and maintenance (Navy) funds in the amount of $500,000 will be obligated, subject to the availability of funds, to fund the contract's minimum amount and funds will expire at the end of the current fiscal year. This contract was competitively procured with the solicitation posted to the Navy Electronic Commerce Online website, as a small business set-aside requirement, with 12 offers received. Naval Supply Systems Command Fleet Logistics Center Norfolk, Contracting Department Philadelphia, Pennsylvania, is the contracting activity (N00189-18-D-Z010)
MMG – TLI JV, Knoxville, Tennessee (W9128F-18-D-0001); MECx – Bay West JV LLC, Houston, Texas (W9128F-18-D-0002); LRS EOTI JV, Pasadena, Maryland (W9128F-18-D-0003); NHV – Insight JV LLC, Honolulu, Hawaii (W9128F-18-D-0004); B&B – ECM JV, Lathrop, California (W9128F-18-D-0005); VETS – Tidewater JV, Elkridge, Maryland (W9128F-18-D-0006); Canyon – Ayuda SDVOSB JV LLC, Lakewood, Colorado (W9128F-18-D-0007); Relyant Global LLC, Maryville, Tennessee (W9128F-18-D-0008); TTL – EQM LLC JV, Toledo, Ohio (W9128F-18-D-0009); and Chimera and Tehama JV, Edgewood, Colorado (W9128F-18-D-0010), will share in a $60,000,000 firm-fixed-price contract for environmental remediation services. Bids were solicited via the Internet with 18 received. Work locations and funding will be determined with each order, with an estimated completion date of Jan. 4, 2023. US Army Corps of Engineers, Omaha, Nebraska, is the contracting activity.
UPDATE: Four contracts announced Dec. 29, 2017, for remote medical record coding services for outpatient medical records, that were not awarded due to protests, were awarded Jan. 5: CRW and Associates LLC, Bowie, Maryland ($66,845,460; W81K04-18-D-0005); Mindseeker, Ashburn, Virginia ($52,632,100; W81K04-18-D-0002); Mindseeker, Ashburn, Virginia ($38,066,600; W81K04-18-D-0003); and Mindseeker, Ashburn, Virginia ($10,169,960; W81K04-18-D-0004).
Northrop Grumman Systems Corp., Charlottesville, Virginia, is being awarded a $30,001,484 indefinite-delivery/indefinite-quantity, performance based, cost-plus-fixed-fee, services contract with provisions for firm-fixed-price task orders (N6523618D8001). This contract is for field and marine repair services; software updates and support; engineering support for the AN/WSN-7 Inertial Navigation System, the AN/WSN-7A Ring Laser Gyro Navigation Systems, and the AN/WSN-7B Ring Laser Gyrocompass; and the repair of ancillary commercial equipment for the Navy. These systems provide full ship navigation capability as well as interface digital data such as position, velocity, velocity rates, and time information to other vital ship systems. Major fleet-wide software, firmware, or hardware changes will be required (due to parts obsolescence, new mission requirements, new interfaced sensor or user requirements) to all of these systems. The contract includes a five-year ordering period. A task order for the Attack Submarine, Nuclear (SSN)-795 in the amount of $521,000; and a task order for the Aircraft Carrier, Nuclear (CVN)-79 in the amount of $471,404 will be placed on contract and obligated at the time of award. Work will be performed in Charlottesville, Virginia (95 percent); and Norfolk, Virginia (5 percent). Work is expected to be complete by January 2024. Fiscal 2015 shipbuilding and conversion (Navy) funds in the amount of $992,404 will be obligated at the time of award. Funds will not expire at the end of the current fiscal year. This contract was not competitively procured because it is a sole-source acquisition pursuant to the authority of 10 US Code 2304(c)(1) – only one responsible source (Federal Acquisition Regulation subpart 6.302-1). Space and Naval Warfare Systems Center Atlantic, Charleston, South Carolina, is the contracting activity.