5K Run, Walk to Benefit Veterans Charity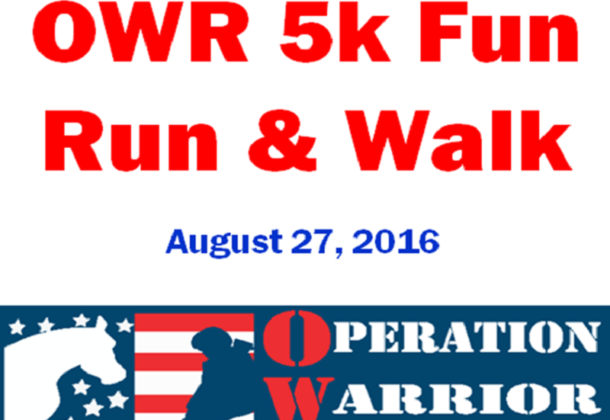 The Operation Warrior Refuge 5K Fun Run and Walk will be held Aug. 27, 2016, at Greenwell State Park.
The cost of entering the 5K is $20 if the entry is received by Aug. 10, and $25 if the entry is received after Aug. 10. Registration includes the park admission fee, water stations on the course, and a T-shirt. A T-shirt cannot be guaranteed if registered after Aug. 10.
The 5K entry forms can be downloaded here returned by mail to 22223 Goldenrod Drive, Great Mills, MD 20634. All checks for entry fees should be made out to OWR 5K. Donations will go directly to Operation Warrior Refuge.
Organizers remind participants that the 5K is a fun run and walk, therefore, it will not be a timed event.
The event is being organized as part of the Global and International Studies program at Leonardtown High School by Emma Miller.
Students in the program conduct a Capstone project, which is a yearlong project addressing a global issue.
The project includes an extensive research paper, a minimum or 15 service hours to help the issue in the community, then a presentation in front of a panel of judges. The students begin the project in November of their junior year of high school, then give their final presentation a year later.
Ms. Miller chose war-related post-traumatic stress disorder as her topic, as it not only is a global issue, but the Southern Maryland area is greatly affected by PTSD due to the region's large military population.
To reach the minimum of 15 service hours, she has chosen to organize the OWR 5K Fun Run and Walk to benefit Operation Warrior Refuge, a local therapy organization for veterans.
Operation Warrior Refuge is based out of Greenwell State Park and provides equine assisted psychotherapy services to both military and first responders with PTSD. The organization works through the idea of "Reboot, Renew, Retrain, and Sustain" to help their patients work to manage their PTSD.
Greenwell State Park is at 25420 Rosedale Manor Lane in Hollywood, MD.
For more information on Operation Warrior Refuge, click here.
For more about Lexington Park, visit this Leader page.
Lexington Park news is SPONSORED BY