30 Years of Philanthropy Celebrated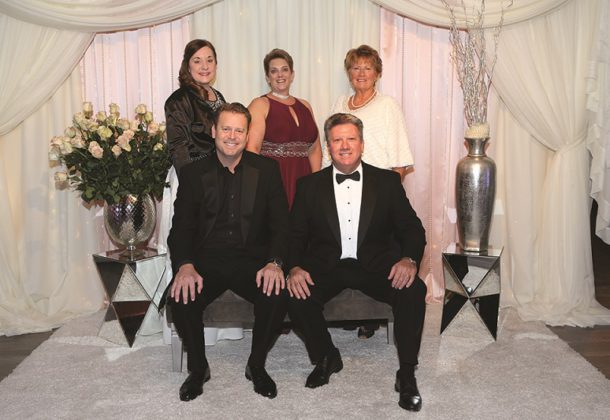 Members of the St. Mary's Hospital Foundation pose before Diamonds and Pearls commenced Nov. 17. Pictured in front are Rick Tepel, left, and Vince Whittles. In the second row are Christine R. Wray, president of MedStar St. Mary's Hospital, left; Jennifer Blake Meyer, chair of the 2017 gala committee; and Karen Garner, a member of the Tarleton family, this year's presenting sponsor.
The St. Mary's Hospital Foundation of MedStar St. Mary's Hospital has many reasons to celebrate. Most recently the foundation celebrated three decades of fun and philanthropy at the hospital's Diamonds and Pearls gala. The event raised money for local scholarships.
The annual gala was held at the Hollywood Volunteer Fire Department's social hall on Nov. 17.
Sponsored by the foundation and the Tarleton family, the black-tie affair featured a gourmet dinner and dessert by Ken's Creative Kitchen of Annapolis with live entertainment by Nocturne. The Hollywood social hall was transformed into a soft, cream-and-blush landscape accented by pearls and diamonds with more than 500 guests in attendance.
John and Michelle Flatley held the winning chance for the Galaxy Necklace: a black Tahitian pearl and diamond pendant with pearl earrings, courtesy of G&H Jewelers.
More than $165,000 was raised in net proceeds to help fund health care scholarships through MedStar St. Mary's Hospital. To date, 142 scholarships have been awarded to local students.
"The gala is always a special evening, but this event — our 30th — was especially memorable," said Jennifer Blake Meyer, head of the 2017 gala committee and chair of MedStar St. Mary's Hospital Board of Directors. "From the generous community support to the high energy on the evening itself, this year's gala was an exciting time for a great cause."
Many local businesses, medical professionals, and organizations sponsored the evening's festivities. The foundation and MedStar St. Mary's would like to thank and acknowledge this year's contributors, especially the Tarleton family "Precious Memories," the Presenting Sponsor ($25,000).
Thank you to the Premiere Sponsors ($15,000): Associates in Radiation Medicine,
MedStar Shah Medical Group, US Acute Care Solutions, and Christine Wray and John Felicitas. The foundation also extends its gratitude to the Diamond Sponsors ($10,000): AMEWAS Inc., The Cherry Cove Group, G&H Jewelers, MedStar Health, and the Meyer family, as well as the 42 businesses and community members who generously sponsored the event at Platinum ($6,000), Gold ($4,000), Silver ($2,500), and Bronze ($850) levels.
Click here to view the event gallery.
For more information and one-click access to a full list of resources available at MedStar St. Mary's Hospital, visit its Leader member page.